It's no secret that climbing makes for an insane workout that targets the entire body, and climbing is one of the most popular activities on MoveGB. From indoor climbing to bouldering, our MoveGB members know how to have fun while working out!
Climbing doesn't even feel like a workout. Your mind is so focused on strategies to make the next move and get to the top, you don't realise how far you're pushing your body… until the DOMs hit the next day. And time flies when you go with mates!
Tempted to give it a go? We chat to the crew at Rock Over Climbing in Manchester all about climbing to bring you a beginners guide to indoor climbing and bouldering. Give this beginner's guide to indoor climbing and bouldering, and see if you're tempted to book in a climbing session!
A beginner's guide to indoor climbing and bouldering, with Rock Over Climbing, Manchester
What are the benefits of indoor climbing?
There are multiple benefits of indoor climbing! The primary perk for many is that it's a great form of exercise that can easily be adapted in terms of intensity and difficulty. The act of climbing uses obvious body parts, such as your legs and arms, but it's also a great workout for you core and lower back.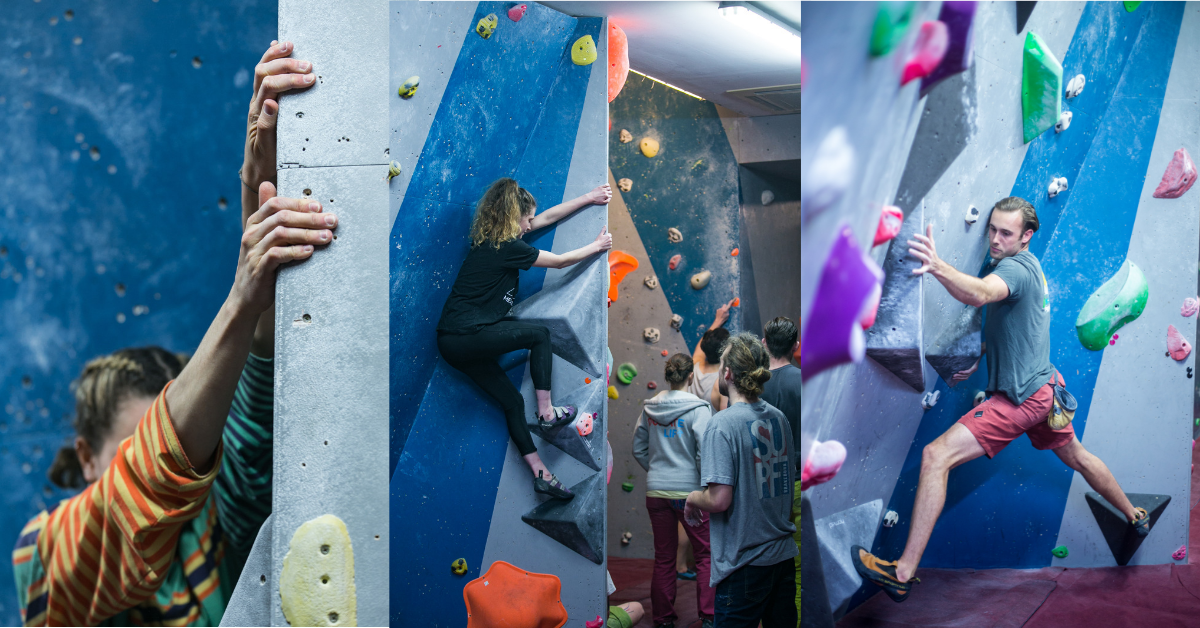 Climbing is also incredibly stimulating for the mind; constant problem solving and strategies of making your movement and choice of climbing holds as efficient as possible.
A final and often very appealing aspect of indoor climbing is the social element: we have many groups that meet weekly and climb together. Climbing doesn't have to be a solo activity. Working on climbs with others is often a great way to push your boundaries, work as a team and learn from each other!
What improvements will I see in my body?
If you climb for a longer period of time, you'll notice an increase in muscle tone, especially in the upper body: biceps, triceps and shoulders.
Climbers will often find their core muscles tighten up as they have to use their core frequently in order to stabilise and create the necessary body tension. Especially on steeper climbing walls.

What is bouldering?
Bouldering is a sub-discipline of climbing that requires no ropes and lower climbing walls, but don't worry! There are large crash mats placed below to catch you if you fall.
An advantage of bouldering is that it doesn't use any ropes so it's really accessible - great for the social aspect of the sport! And if you fancy some quiet solo climbing, you can tackle the bouldering wall alone.
What are routes and 'problems' in climbing?
These are paths that you follow to get to the top. These routes are set using different coloured holds and each will be a variety of grade and difficulty. Rather than using any random holds, professional route setters set specific routes on the climbing walls with a sequence in mind. This means climbs should be somewhat intuitive - climbers can then follow up the walls guided by the coloured holds.
What are the important climbing terms I should be familiar with?
Volumes: The coloured climbing holds used to identify routes are specific to individual routes. There are also wooden volumes dotted around which are larger and can be used to assist in your climbs.
Matching: Matching is where you match both hands on a climbing hold. To complete a climb, you need to match the final hold of the route.
Flashing: This is a climb or route where you complete the route on your first go with no previous attempts.
I want to try indoor climbing - but do I need to bring kit?
If you're new to climbing you may need to hire items, such as chalk and climbing shoes. Climbing shoes are specifically designed to help you stand on small climbing holds. The walls of a climbing wall are also usually textured so if you wear your everyday trainers, they could take a battering! Climbings shoes can be hired out for the day at Rock Over Climbing for only £3.
Chalk is used on your hands to reduce sweating and increase friction on the climbing holds. You can hire some for £1 at Rock Over Climbing.
I'm nervous about heights - will I get hurt?
There are inevitable risks attached to indoor climbing. However it is incredibly safe! The mats below are designed especially to cushion your fall, and climbs only go up to a maximum of 4 metres at Rock Over Climbing, so you can go as far as you feel comfortable. And there are areas of the centre which are designed purposefully for beginners with lower walls and climb finishes.
I'm a complete beginner to indoor climbing! How can I prepare my body?
The movements in climbing are quite specific in comparison to gym-based activities. Being flexible will be incredibly useful to help increase range of motion and movement efficiency. Find out more about how yoga and climbing are the perfect match for your mind and body!
What should I bring to my first climbing session?
A lot of what you may need to climb can be hired from our Centre. All you would need to bring alone would be comfortable clothing that doesn't restrict movement. Steer clear of expensive yoga leggings as you may scuff the fabric against the bumpy walls.
Get hungry easily? Maybe bring some snacks as climbing can be quite intense and you can be on the walls for a long time! There is a full cafe at Rock Over Climbing - we got ya.
Are there any special beginners indoor climbing experiences at Rock Over Climbing?
We're holding a summer extravaganza on 1st June 2019 at Rock Over Climbing Centre - it's a climbing competition designed to appeal to as many climbers of all abilities as possible. It will display exactly how accessible indoor climbing is and put a real spotlight on the Manchester climbing community!
As our summer extravaganza is designed to be a relaxed, beginner friendly competition the atmosphere will be nice and welcoming. The centre will likely be slightly busier than usual but competition routes will be set around the entire centre to spread participants out as much as possible.
You will have specific routes to complete, varying in difficulty and a scorecard to record your attempts. But we recommend at least a couple of climbing sessions prior to the competition to get into the swing of things, become familiar with Rock Over Climbing centre and get in some practice.
Changing facilities and showers are available on the day of the event along with plenty of locker space to keep your belongings nice and secure. A full cafe of refreshments and snacks will mean participants and spectators will be able refuel after working hard in the competition.
The finals of the competition will be held in The Hub which is the British Team training wall and a competition wall tucked away at the back of the centre - there'll also be climbing films, a BBQ and prizes… get involved!
Rock Over Climbing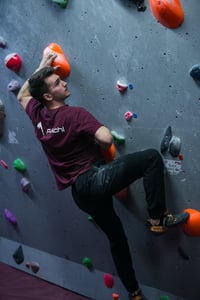 They opened their doors in June 2010 in the heart of Manchester's City centre and is one of the UK's largest indoor climbing centres. The wall space in the centre is vast with walls of all angles climbs of all grades available for you throw yourselves at. They also proudly support the GB Climbing Team, hold the Official GB Climbing Team Training Wall and host monthly training events for the team.
All images: Sam Pratt