Hands up who's feeling more frazzled than festive? We hear you. This time of year can feel intense with social commitments and Christmas shopping layered on top of our usual everyday responsibilities.
If only we could dig around and find a few extra hours in the day hiding in the back of our wardrobes. Instead, focus on getting some much-needed mindfulness.
We may have every intention of enjoying a mellow Christmas but often life has other plans. Interestingly, yoga philosophy is far from requiring a perfect studio, branded leggings, or a guru. It simply requires a moment of attention.
Teacher and director of Bristol School of Yoga, Laura Gilmore, talks to us about how to reduce stress and increase mindfulness during the most fun (yet stressful) season of them all: Christmas.
More frazzled than festive: Yoga Advice for Mindfulness
If you enter the Christmas season with frayed nerves and extra grey hairs, there are some simple things you can do to reduce stress levels. You're probably thinking, 'I don't have time to wash my hair, let alone a downward-facing dog'!
But yoga, much like Christmas, has suffered from some branding problems. You don't always have to be following in the footsteps of Insta-famous yogi's. You can take elements from yoga practice and carry them through your everyday living.
And this is the important bit. If you tune in and listen to what's going on inside, what you're thinking, feeling, sensing, smelling or hearing, then some of the swirling fake snow, jingles and gifts unbought will fade for a moment.
It's a recalibration, a deep inner exploration, and it doesn't take long. In the bath, in a queue, at work, on the loo. Just notice a breath, in and out, and feel what you're feeling. Take note of the emotions or sensations. And that is it.
How does it work?
Often, we impose on ourselves whatever we think we should be doing, thinking or feeling. Seeking true self-acknowledgement can act as a calming balm to help reset the nervous system.
Looking within and practising mindfulness can radically alter our vision and behaviour so that if something really isn't what we need - then we recognise that fact and don't do it! Yoga comes in many guises and a nurturing moment of awareness may be enough.
"It's a well-known yoga oxymoron - the times when you're too busy to make time for your yoga or meditation practice is the time when you need to stop and practice."
Techniques
For those moments you feel really frazzled and the mind is all over the place, the best thing to do is drop into the body. It can be as simple as feeling and moving the feet and legs. Lie on your back, stretch each leg up in turn and tune into the breath moving your abdomen.
For moments when you can't get on the floor (like when you're in that never-ending queue to get the Christmas shopping), stand tall, bend the knees a little and slide the shoulder blades down the back. Shift a little stiffness from the body, and let the mind follow.
If you can, fold forward and reach for your thighs, knees, or toes, keeping a soft bend in the knees to protect the joints. You don't need to reach your toes to do yoga, but folding your arms and head down can be energising and change your perspective.
For moments of exhaustion, put a bolster or cushion near the wall and swing your legs up the wall. Focus the mind on feeling the breath slowly fill and empty the lungs. This acts as a total pick-me-up.
Then there's simple breath practice - match the length and depth of your inhale with the exhale. Gradually as the lungs relax let each breath lengthen.
Don't forget...
And don't forget to keep some space for your regular class or practice. It might be a greater gift to yourself and others to take some time for yourself rather than pushing through every social engagement.
Lastly - consciously practising gratitude is a way to feel happier. Even in dark lonely moments, we can sometimes feel gratitude for our bodies, like the way they still function despite all the crisps and mince pies. Allow gratitude to be deeply felt for family, friends, homes, love.
If all this fails, make friends with the person in charge of the mulled wine this year; then enjoy the small moments found between sips (and the breath, of course). Have a wonderfully calm Christmas and a very Happy New Year!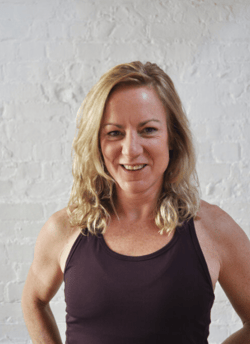 Laura Gilmore has been practising yoga and meditation for almost 30 years and teaching yoga for over 15 years. She's the director of Bristol School of Yoga and teaches regular classes to help students find ease and understanding within body and mind.
Bristol School of Yoga (previously known as Bristol City Yoga) has been at the heart of Stokes Croft for almost 20 years and has yoga, wellbeing & fitness classes suitable for all levels.
Find out more about Bristol School of Yoga
Give Laura Gilmore a follow on Instagram.
Check out Bristol School of Yoga's Instagram.