Over the past few years, we've watched our fitness providers get stuck into live-streaming their classes to keep you (and their businesses) thriving. It's been a tumultuous ride but they have continuously strived to bring movement and joy to our community, showing their strength and resilience.
However, it's not been exactly easy for any of them. Especially for those who got marooned outside of the UK when the borders closed due to the pandemic.
Piloxercise is a Bristol-based fitness empire that has got us dancing, shaking and wriggling over Zoom while their studio was closed due to the pandemic. They grabbed the live-streaming platform by both hands and ensured none of their loyal class attendees was left twiddling their thumbs. But did you know that since March 2020, Piloxercise's co-founders have been stuck in Australia?? No? Neither did we.
Pilo and Ilaria had been running their business in Bristol SO well that none of us at Move had a clue that they were in a completely opposite time zone. So we grabbed them for a few mins to find out how they managed this fantastic feat whilst stranded in the southern hemisphere.
How to run a successful fitness business during a pandemic… from the other side of the world.
Hi Pilo and Ilaria, so good to see your faces after so long! Tell me your story from the beginning - why were you in Australia right before they closed their borders?
We headed over in February 2020 to expand the brand overseas by running masterclasses and training local instructors! We had done some market research, but we flew over without too much prep and contacted gyms and other fitness brands to get our classes going.
But within a week, Australia went into lockdown. And yes, as you could imagine, it activated pure panic mode! But only for 24 hours. We had a lot to get on with once we had processed the situation.
What was the first step of your action plan after you both recovered from the shock??
We immediately had to touch base with our instructors who have full-time teaching roles in the Piloxercise franchise.
We have 14 instructors in Bristol (and 32 spread across the UK, Spain, Netherlands and now Australia) who teach Carnival Dance, Salsaton, Soca Step, African Dance, Dancehall and more! We felt responsible for making sure they were ok - they had done so much for us over the years, it was only right to take care of them in this moment of need.
After we spoke with our instructors, we began researching the best ways to stream classes and record sessions for on-demand. We knew that the demand for our classes would still be there, and we didn't want to let our community at home down.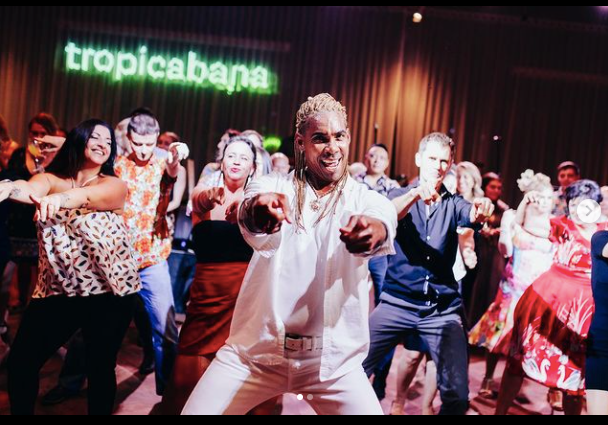 Wow - you were amazingly proactive! How did the move to digital go? What learnings did you get?
Yes, we had a few issues with the logistics and technology. It was difficult for us to figure out how to get quality footage with quality audio and an excellent connection to the WiFi - the holy trinity of live-streaming. Music is so vital to the Piloxercise workouts, so nailing that was a BIG factor in making our digital classes a success.
Finding the space to film our on-demand workouts was also problematic, but as soon as we were allowed to exercise outside, we took our on-demand content to the beautiful Australian gardens and parks.
We had the same obstacles as those back in the UK trying to get their fitness classes digital. So the biggest one we had to overcome was the time difference.
To live stream to our community back in Bristol, we had to get up at 4 am to run the class. Getting up before dawn and providing the same energy as usual involved a lot of dedication. It was tough, but we soon found our rhythm and would usually head back to bed straight after class - that was a bit disorientating!
4 am fitness classes! You continued to bring the energy and the vibes in your live streams - how on earth did you find the energy to do this?
Keeping the same atmosphere as our in-person classes certainly was a challenge! Kicking off a class alone at 4 am in the dark was strange. Ultimately, we had no choice. We had to grit our teeth and keep on setting that alarm clock super early - we had to show up.
But seeing everyone logging in and bringing their energy - that gave us the energy boost we needed. No caffeine or energy drinks could replace the unique feeling of seeing our community continuing to support and move with us! We all needed that motivation direct from our class members.
We would also need to get up this early for meetings with our instructors and other projects, such as St Paul's Carnival (Pilo is on the board of directors for the Bristol carnival). We soon got into the habit, and it became just a way of life in this strange new world.
It was a constant hustle as we needed to stay forefront of our community - we couldn't switch off. Being so far away meant we couldn't turn off our phones or ignore emails - we had to be there for any requests from our instructors. Even when a fuse blew in our Bristol studio, we were on hand to help where we could.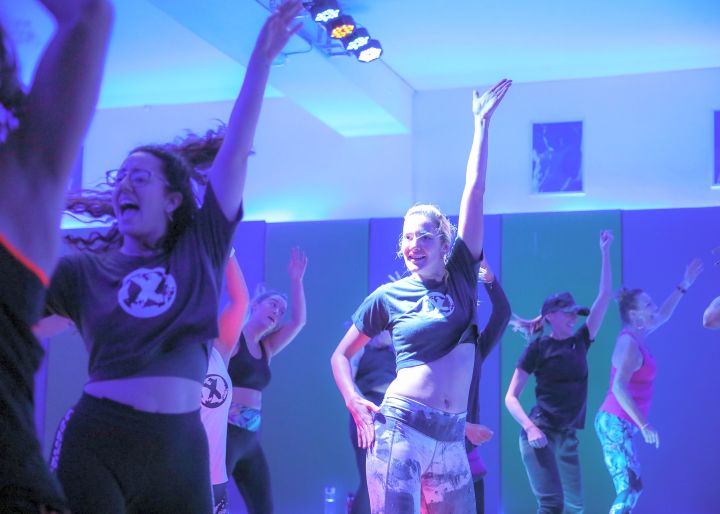 How community helped Piloxercise survive:
So your community was a substantial factor in your success? Tell us more!
We have discovered so many of our instructors from class attendees. They are just as passionate and humble as Pilo and always put in 110%. They channel the vibes and love the classes, but they're more than just co-workers. We see each other as equals and keep an open dialogue, as it's so important to treat those who work for your business with respect as you get it back tenfold. They're always thinking of ideas for the studio and improvements - it's their baby too. They take pride in their work and help shape the business.
"It's a miracle Piloxercise survived the pandemic as we're a small independent brand. But we had put in the time to nurture our community of both instructors and class members - prioritising that over the years saved us."
Pilo has had many customers follow his fitness offerings around Bristol because they love what he does. They're part of every accomplishment, they get involved at events, and they're part of the journey. They have formed such a strong community.
Community is everything. We couldn't do ANY of this without ours, but it's a two-way street. The class members gave us the energy we needed at 4 am, and we provided them with an escape from the stresses of the pandemic.
We know that our digital classes' impact on people's physical and mental health was significant. All fitness instructors who kept teaching throughout lockdowns have helped so many more than they know!
So now that Piloxercise is now available digitally, will you continue with it once you get back to the UK?
Definitely! We already had a demand for digital offerings from our class members - it was always in our plans... but we never made it a priority. The pandemic took care of that decision for us, so now that we have the framework in place, we'll keep it going and make it bigger and better!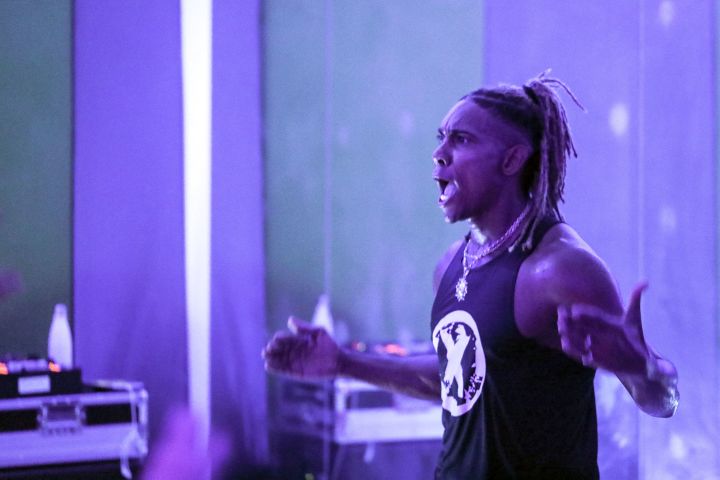 And lastly, how has the broader community of the Bristol fitness scene helped your business?
We've always opened up our spaces for other local instructors. 2021 was our 5-year anniversary, and we celebrated in style with so many of them! We collaborated with many different teachers around the city - it was a brilliant day of collaborative fitness.
We love to support other independent teachers in Bristol and expose them to our community and vice versa. It's more about community rather than competition, as we all help each other expand our followings and learn from each other!
They each promote different cultures and styles of dance or fitness, so bringing them together for our 5-year anniversary was fantastic.
And of course, Move. Move's integration with Zoom for live streaming was incredibly beneficial - we didn't want to lose our Move members as we have had strong connections with them for many years!
The live-stream integration made things easy for us to manage, plus Move was so supportive in spreading the word once our studio could reopen. It's been fantastic to see how Move has grown over the years but still looked after the independents on their network.
Excellent - thank you so much. We've loved moving with you over the years and couldn't imagine the Bristol fitness scene without you. What's next? And when will you be home??
Borders have now reopened… but we still have to wait due to a remarkable new person in our lives. Once our newborn is old enough to fly, we'll make our way back to Bristol for the number of exciting events and new collaborations we've been organising. We can't wait to be back!
Thank you so much for taking the time to chat with us, Pilo and Ilaria. We'll see you soon on screen, but we look forward to finally moving with you in person again! Best of luck!
Fancy trying out Piloxercise classes? If you're based in Bristol, you can move with them in person at their studio in Lawrence Hill. They also have on-demand and live streaming workouts available for those outside of Bristol. Check them out below:
Piloxercise:
Book a fitness class with them on Move
Find out more about Piloxercise
Follow them on Instagram: @piloxercise