Since the outbreak of COVID-19, we've been working around the clock on initiatives to help keep our members active; whilst also providing support to our community of fitness instructors.
Since social distancing measures were announced, attendance at fitness classes across the country has plummeted along with fitness venues closing their doors for the lockdown. We've been hard at work to respond to the situation and help the thousands of fitness providers we work with to combat this unprecedented challenge.
And we're pleased to announce the launch of our new service: Move At Home.
Move At Home: Live-streaming and on-demand MoveGB home workouts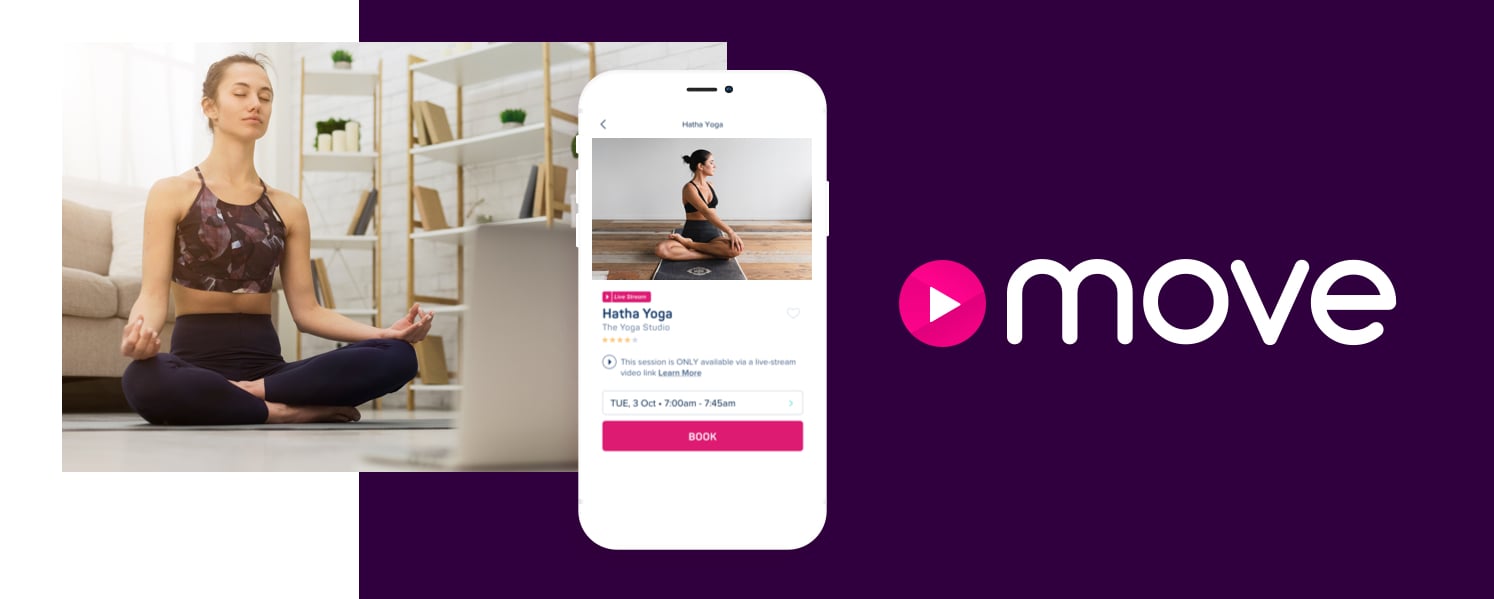 What is Move At Home?
Move At Home allows our fitness instructors and local studios to continue offering classes via live streaming and on-demand videos. Move At Home also features on-demand fitness content allowing you to access home workouts from world-renowned fitness experts.
The launch of Move At Home means that with MoveGB, you can now work out with your favourite fitness instructors from home, and also discover new workouts from around the UK.
We have also made Move At Home FREE for all NHS workers (as of May 17th 2021, the NHS free membership is no longer available).
How does it work?
Sign up for a Move At Home trial and get 7 days for only £1. You will get access to 100s of free taster streaming classes and on-demand workout from our brand partners so you can work out at home. To revisit your favourite classes, take advantage of pay-as-you-go access.
We're adding new live-streaming classes every single day - there are 100's to choose from so be sure to check to see what live-streaming classes in the UK we have available.
Once you've booked your class, you will receive an email before the class begins (usually 30 mins before) which will contain the link to stream. Or 'check-in' before the class begins - your link to the live stream will appear once you're checked in.
What home workouts are available?
From yoga in Bristol to twerking in London, you'll get access to all our fitness providers under one membership, regardless of their location!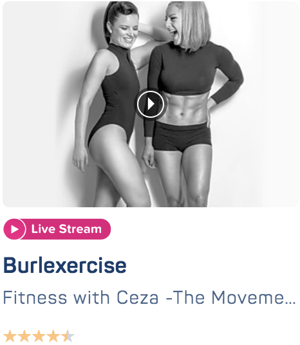 This means you can try out workouts from different cities which you've always wanted to give a go. We at Move HQ are super keen to try a remote twerking session… watch this space…
We're working to release new streaming classes every single day, so expect new classes to appear Move At Home going forwards. From home workouts for beginners to more sweat-tastic, intense workouts.
And many of the home workouts don't require equipment, or you can easily substitute with household items - the sessions will be adjusted to accommodate limitations.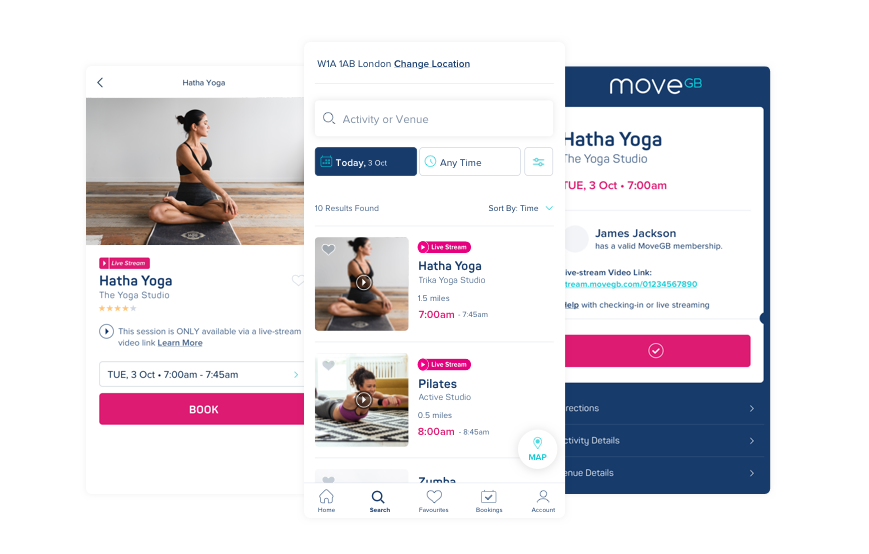 If you have a favourite MoveGB fitness instructor or know of another instructor who is struggling during this time, do let them know that you want to continue working out with them via live streaming. Tell them to get in touch and we will get them streaming as quickly as possible.
Move At Home: Top at-home workout classes
Here are some of our top picks of live-streaming classes to get you started on Move At Home - what will move you?
Now Studio: Now Yoga with Ulle Jonnson - Live Stream
Ulle likes to be in a place where it challenges her mindset to grow as a person and see how to involve this in her daily life to be able to love balanced and healthy.
So as a yoga teacher she is intrigued by our mindset to discover another world of yoga beyond just the physical. Ulle has a mischievous side and likes to approach her classes with a big dose of fun to balance out the hard work.
AE Dance + Fitness: Ballet Barre Fit
In this ballet-inspired exercise class, use the basics of classical dance technique to train the body to stretch, grow and hold itself with power and control.
Expect a series of exercises that bring together ballet, pilates and HIIT training. Some will make your muscles burn, some will make your heart race and some will slow you right down. Expect jumps, squats and planks. And pirouettes, arabesques and jetés.
Elly Clibbens Hula Hooping: Hula Hoop Online
Hula hooping exercises and tones your whole body, and they can be practised brilliantly from your living room or garden. Open to complete beginners but with plenty of options for those with some hula hoop experience up to advanced hoopers. You will need a hoop in order to participate in this class.
LA Revolution: Online Body Blast
This is an all-over body training session that will complement your training programme. Using floor exercises to strengthen and tone upper body and abdomen and dynamic exercises for heart and lung fitness and fat loss. This stand out session will improve your fitness, help you to lose body fat, gain muscle tone, improve posture and give you stability in your core muscles.
Motion Dance Studios: Beginners Street Dance with Laura
Are you just starting out on your dance journey? Then this is the class for you! Join Laura for this fun confidence-boosting dance class which incorporates street, commercial and hip-hop style foundations to help prepare you for some of the more advanced classes available on the timetable!
These classes are aimed at people with little to no dance experience or those of you looking to get back to dance after a break.
Daily Practice - Westwood Parish Rooms: HIIT YOGA
An all-over body workout designed for all levels wanting to develop their fitness. Bursts of intense bodyweight exercises carefully blended together to help unlock the fat-burning, metabolism-boosting, heart-pounding benefits of High-Intensity Interval Training.
Salsa Souls, Bristol: Online Salsa classes for absolute beginners
The best of Salsa, Bachata, Cha Cha Cha & Latin dance taught by Stellan, a teacher with 19 years dance experience and 14 teaching experience.
Athena Pilates: Tech Neck - Pilates for Home Workers
Take 30 mins out of your day to reconnect and take a breath. It's so important to factor in time away from your screen especially if you're working from home during these uncertain times. Expect simple Pilates-based exercises to gently mobilise and stretch the neck, shoulders, spine and wrists after sedentary periods i.e. after working on laptops or PCs or driving.
Self-isolation and social distancing are hard enough. Let's keep our bodies and minds active, and stay healthy during this time of uncertainty.