As we launch ourselves into a brand new year, we like to reflect on the past 365 days and give some much-needed thanks to those who helped us get through the year. And it turns out that many of our Movers have some pretty epic stories to tell ✨
The independent fitness instructors that make up the Move network have not only kept our bodies active, but they go above and beyond to make sure you're feeling the best you can be. Some will even save your wedding and hold your ceremony at their studio! Now, if that isn't going above and beyond, then nothing is...
So join us for some heart-warming stories straight from the mouths of our Movers. We're adding more every week, but first, we chat to Charlie from Brighton, a long-time Move member who had their bacon saved by Lucy Pinto from TheBox studio in Brighton.
"Not only has TheBox propelled my fitness to new levels, but Lucy & the team saved our wedding day!" - Charlie R.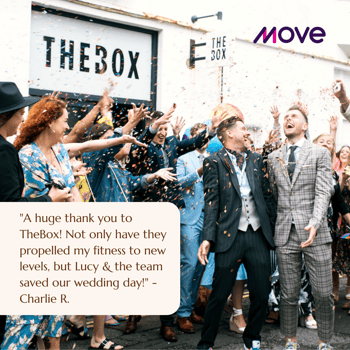 If you had told me 18 months ago that I would be training 4-5 times a week, and it would include boxing, I would not have believed you. That was until I tried TheBox on my Move membership. I've now tried every one of their workouts, but my faves are the Strength & Conditioning and Box 'n' Burn sessions.
The founder of the studio, Lucy Pinto, and all her incredible instructors have created a safe place to train that leaves egos at the door and focused on mental wellbeing as well as physical.
It doesn't matter if you're 18 or 78, new to fitness or a seasoned pro - the team understands the power of making members feel comfortable rather than intimidated.
"Not only has TheBox propelled my fitness to new levels, but the impact that the studio has had on my mental health is second to none."
It's more than a fitness studio - it's a community, and regular members become friends! Nothing breaks boundaries like holding the pads for someone whilst they perfect their boxing technique and then going for a game of beach volleyball afterwards. I'm fitter, healthier and happier from regularly moving with TheBox through my Move membership!
The proof was in the pudding when Lucy saved mine and my husband's bacon on our wedding day. The pandemic forced us to have a very small ceremony with just our parents and sisters. Just twenty-five of our closest friends were to wait for us on Brighton beach to have our own unofficial celebration after the legal part so that we could read our own vows and hear readings.
However, just 24 hours before our day, the Met Office issued a yellow weather warning with 60mph winds and rain (in July!), and after planning a wedding through a pandemic our plans looked scuppered by Mother Nature.
Lucy, who knew our journey, went above and beyond. She offered us the studio for our mini-celebration, free of cost. She even hung pride rainbow pride flags from the TRX brackets (the photos are stellar)!
And just like that, TheBox held its first wedding. One day, I was doing weighted burpees in the studio, and the next, I'm saying my vows next to punchbags! In hindsight, it was perfect and we wouldn't have changed it.
What Lucy and her team have created at TheBox is very special. I'd get into the boxing ring to challenge anyone who says they know a better fitness studio!!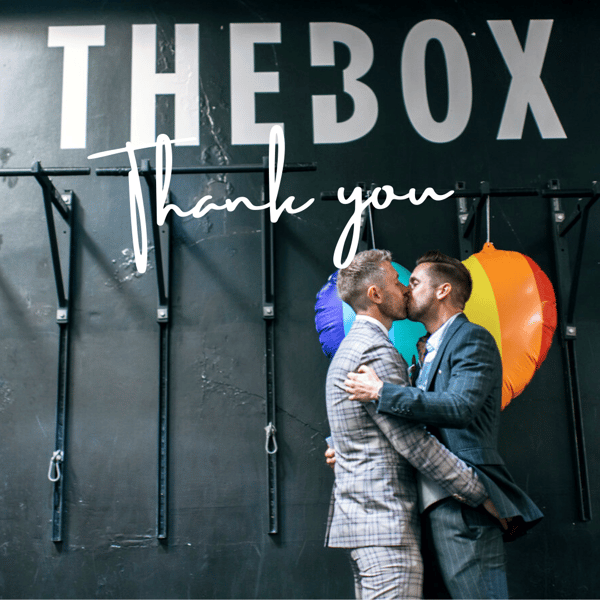 A huge thank you to Charlie for sharing his beautiful story And of course, a MASSIVE thank you to Lucy Pinto for showing what community truly means. When life gives you lemons, trust your fitness instructor to turn it into a big ole' refreshing glass of lemonade.
Stay tuned for more moving stories from our Movers... there are more to come 😍 #FindWhatmovesYou
TheBox, Brighton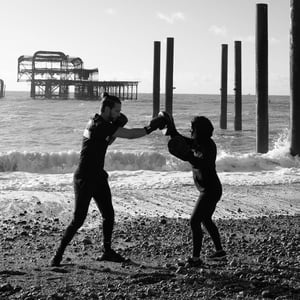 "TheBox is built on community. No one is left behind and we lift each other higher each and every day! Our community has been integral to keeping TheBox going through the whole pandemic."
"The support has been unreal - the daily messages during a turbulent year has made me even more confident in growing my business. TheBox members are the reason I get out of bed each day!!" - Lucy Pinto
Say 'Hey!' to them on Instagram