If you love yoga, then training to be a yoga teacher sounds like a dream! But do you know what to expect from a yoga teacher training course?
Taking a passion and teaching it to others is a gratifying and satisfying mission, especially when it has foundations in meditation and bliss. It sounds like heaven, right! However, before you're looking to enrol yourself into a yoga teacher training course, there are some key questions you need to ask and things to bear in mind.
How many hours will it take? How much does it cost? Do I have to be seriously experienced to get on a yoga teacher training course? And is it worth it?
These are all common questions for budding yoga teachers, so we cut straight to the chase and spoke with the founder of Bristol School of Yoga, Laura Gilmore. Bristol School of Yoga (formerly known as Bristol City Yoga) hosts a vast array of yoga classes and experiences and yoga teacher training in their stunning studio in the back alleys of Bristol's arty Stokes Croft.
Bristol School of Yoga offers yoga teacher training courses from foundation to advanced level. They focus on developing an in-depth understanding and robust skillset while building confidence in their student's skills and finding their voice as yoga teachers. They have an impressive 98.4% completion rate, and 99% of their trainees are teaching classes within three months of qualifying as yoga teachers.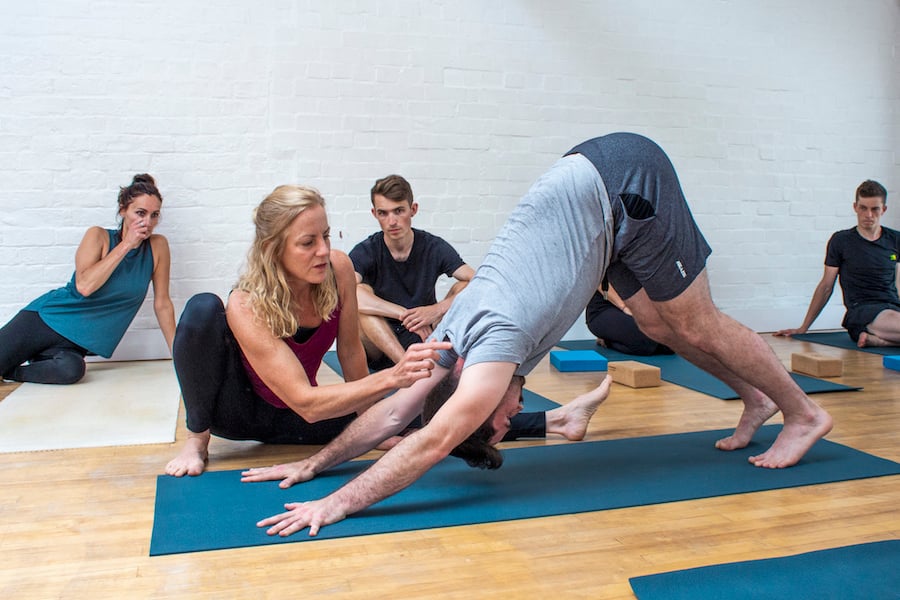 So let's take a look at what to expect from a yoga teacher training course, and who knows, maybe you'll be teaching your own class in the near future!
What to expect from a yoga teacher training course
Hi Laura, thank you so much for taking the time to speak with us. Let's start with a really popular question that many yogis ask when considering training to be a yoga teacher.
How experienced do you need to be in order to enrol on a yoga teacher training course? How should students prepare?
You don't need to be at a certain level to join a yoga course. You definitely don't need to be able to do a headstand or incredibly advanced moves! But it's integral that you have a steady interest and commitment to the practice.
Certain training schools have different prerequisites, for example, some schools accept students who are totally new to yoga while others may recommend several years of steady practice before applying to a course. But it really benefits students to have a strong personal practice and familiarity with yoga if they aim to be a teacher.
I would recommend 2 years of personal practice, ideally with a teacher in person, but if online, ensure live feedback and support are available. Take the time to read a few books and educate yourself (I highly recommend 'A life Worth Breathing' by Max Strom and 'Body, Mind, Spirit' by Donna Farhi).
To get prepared for a yoga teacher training course, take a foundation course first, and get to know the teacher running the course. Talk with them to ensure you can connect with them and will enjoy their teaching style. It's always a good idea to ask questions before signing up, such as:
Will I get a teaching practice?

Are poses adapted for every body type?

Do you teach in an evidence-based way? (i.e. integrating current knowledge)

What's your understanding of cultural appropriation?
What learnings will you come away with once qualified as a yoga teacher?
Obviously, this depends on the course you select as well as how much energy and attention you invest into the training. Yoga students who take the time to select the right course for their interests, and give as much time and energy as they can, will come away with a very rewarding experience.
Students can come away with a better understanding of how to self-practice, learn about neurology and anatomy, and have an in-depth understanding of the philosophy behind yoga and pranayama. Plus the elements of being a teacher are invaluable - knowledge on how to structure classes and why classes are structured in a specific way.
Who do you think should consider becoming a yoga teacher?
Anyone can become a teacher, as long as they realise it's based on self-practice, study and making the most of available resources. You don't need complex postures or sequences - when teaching, most people in your class will be after assistance in moving with ease, breathing well and de-stressing.
More important is the ability to actually teach. You need to see what's needed when your class is in front of you and to offer them something relevant. You need to be in tune with their needs and be compassionate for a variety of needs. And underlying all of this, teachers still need their own practice in order to have daily stability to make our own lives easier.
Roughly, how much does a yoga teacher training course cost?
Cost can vary considerably, depending on the quality of training, whether accommodation and food are required and where in the world the training is being completed.
The average cost of yoga teacher training with a provider in the UK can be anywhere between £1100 - £3000.
How long are yoga training courses? How many hours does it take to become a qualified yoga teacher?
This can really vary depending on the format and yoga course you choose. Oftentimes shorter teacher training lends more to a personal experience and students practice, whereas training formatted over a longer length of time tends to instil more confidence in the methodology of teaching yoga, as it offers a longer time for the information to assimilate.
How the course is structured and the length of time it takes to gain certification can vary depending on your chosen course. The minimum length to become a certified yoga teacher is 200 hours. This is the basic certificate required.
Many teachers then choose to expand their training with an additional 300 hours or enrol in varied continued professional development yoga courses in specified areas of interest. So in a nutshell, it can take as long as you want, but 200 hours is the minimum requirement. There are different options available. A shorter training course is completed in an immersive environment of around 30 days, and then longer training is usually spread out over the course of anywhere from 6 months to 2 years.
At Bristol School of Yoga, the course is delivered over a longer period of time to allow the knowledge to integrate. This also gives students a chance to build a sense of community amongst their classmates, and receive more personalised feedback and support.
What exams will I need to take to qualify as a yoga teacher?
In general, there should be an exam at the end of a certificated yoga teacher training course, although this may not be the case with every provider.
At Bristol School of Yoga, there is an anatomy & physiology quiz, written exam, two practicums and a certain self-practice expectation, with an aim to pass everyone. We focus on supporting students until they feel confident to teach. We also ensure the school upholds a great reputation so yoga students find it easier to gain work upon graduating due to the reputation of the school where they trained.
Can I train to be a yoga teacher online?
Some yoga courses allow you to complete the training online or offer a hybrid option. No matter how you train, you must check that your chosen course is a Registered Yoga School (RYS) training to obtain a certificate with certain awarding bodies.
And now for the BIG question: Is yoga teacher training actually worth it?
Teaching yoga can be a wonderful way to enhance your career, although it is not necessarily all beaches in Bali as it may seem!
Setting up local yoga classes can take a while. You need to build up a good reputation and get immersed in your local community and have some knowledge of marketing to spread the word.
If you can nail it then teaching yoga can be a good source of additional income. But many tend to forget about the admin and marketing that has to run alongside teaching yoga - it's not as easy as it may look on social media.
There is a complexity to teaching yoga that is often not anticipated when enrolling. These things include:
Reflecting the philosophy & history of yoga so as to appreciate the cultural context & avoid cultural appropriation.

Have an understanding of anatomy & the recent advances in sports science.

Understanding the neurology around pain.
There is a massive need for yoga around a lot of specific areas, i.e. yoga for anxiety, to alleviate back pain etc, although these would require extra specialised studies. It's a lifetime of study, but it's a career that brings real depth, reward & endless learning.
A yoga teacher training course can also be beneficial if you are wanting to deepen your understanding of yoga and your own personal practice, although it may become an overused resource for those not interested in pursuing teaching.
For those not interested in running their own yoga classes or working at a studio, there are other ways to deepen your practice. A lot of yoga studios offer workshops and mentorships, which can help you explore more of your practice without training with the goal to teach. At the Bristol School of Yoga, we run an in-depth yoga course with myself, and the British Wheel of Yoga has a foundation course that covers the foundations of the practice.
Bristol School of Yoga
This is so incredibly insightful, Laura. We'd love to know more about yourself and Bristol School of Yoga. How long have you been a yoga teacher?
I had a solid 10 years of yoga knowledge before I started teaching yoga - I have now been teaching for 20 years and practising for 30 years. And my studio, Bristol School of Yoga, has been teaching trainees for 12 years.
What does teaching yoga mean to YOU?
For me, yoga is a path and a place of radical self-acceptance. We pause in the practice to be with ourselves at that moment, and with that, we must realise that everything we need is in this moment. Over time this realisation deepens so we accept that we are exactly who we need to be and that we don't need to keep trying to change or improve ourselves.
Yoga really is a transformative experience. It's a way to bring about physical ease, stability & strength, to redress the imbalance in the nervous system through the breath. A way to come home to ourselves.
So, as yoga teachers we support those in our classes through this process, making them warm and welcoming, adapting poses to make them accessible to each person. We can share the underlying teachings in a way that feels relevant.
I personally love to combine ancient wisdom with the latest movement science and neurology. I teach in a way that is trauma-sensitive as it has become evident to me that many of us have some trauma we perhaps have not yet identified or defined. But sharing in this way means the practice becomes more accessible.
At the same time, I love to add a strong & playful element to the asana (postures) which keeps it current with what we know about health for the body & mind. The body needs enough stimulus in the way of "load" or weight-bearing to strengthen, so once students have gained some strength & mobility I integrate body-weight workout moves into the calmer framework of the yoga practice.
Yoga goes beyond movement, beyond the mind, & beyond wellbeing. It's a way to gently (and with humour) address the fundamental questions of humanity: Who am I? What am I doing here? How can I be happy? Yogis find ways to answer them with the advantage of recent neurological science, as well as the wisdom of the ancients from India.
I find this work endlessly fascinating and rewarding, as year on year I become better equipped to support the students & trainees that come my way to be well in body and mind.
What has been the most incredible experience you've had as a yoga teacher?
The most powerful experience for me is always witnessing the power yoga has had to transform lives. At the end of our teacher training course, we have a closing circle - a space to acknowledge the transition from yoga trainees to teachers.
To recognise the vast amount of learning that has gone on, the work, the tears, & especially the laughter that has brought the graduates to this point. The trainees talk about the process for them and the healing, self-awareness and shift towards greater self-love that the course has allowed is the most incredible experience I have the honour to share in and witness.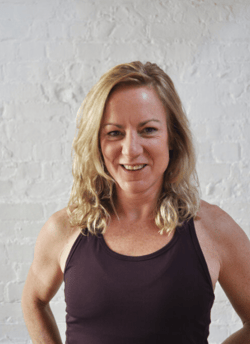 Laura Gilmore is the director of Bristol School of Yoga and has been practising yoga and meditation for almost 30 years and teaching yoga for over 15 years. Laura teaches regular classes at the studio that help students find ease and understanding within body and mind.
Bristol School of Yoga has been at the heart of Stokes Croft for almost 20 years and has yoga, wellbeing and fitness classes suitable for all levels. Yoga classes at Bristol School of Yoga are available through MoveGB.
Find out more about Bristol School of Yoga
Follow Laura Gilmore on Instagram
Check out Bristol City Yoga's Instagram