Last week the UK government issued the long-awaited news that gyms, studios and fitness centres can reopen from Saturday 25th July. Yeeeesss!
Although that news is brilliant, the reopening process requires careful consideration and thoughtful action from all of us.
Instructors and venue managers will be following more guidance and enforcing some regulations to ensure the health of staff and customers is protected. They'll have a tricky time so now more than ever it's right for customers to be compassionate, compliant and respectful.
We're all in this together!
Here at MoveGB, we are circulating resources to our partners to ensure they take the right precautions when running their in-person classes. We're also listening to and talking regularly with customers and partners to make sure the environments and conditions are safer and cleaner but also still fun, inspiring and motivating places to be active.
With such a variety of instructors and venues on the Move platform, there are naturally some variations on the particular actions to be taken in individual cases, but here we've compiled a broad list to help you know what to expect.
What to expect from venues
The COVID Kitemark
All activity providers will be doing their utmost to reopen their businesses safely at this time, so to help them reassure you we're offering a feature to our Partner Activity Providers letting them display our COVID prepared icon on their activities.
This means that they have confirmed for us that their timetable is up-to-date and they're going to be observing the social distancing and operating advice given by the UK Government through UKActive (the governing body for the health and fitness sector in the UK). Find out more here.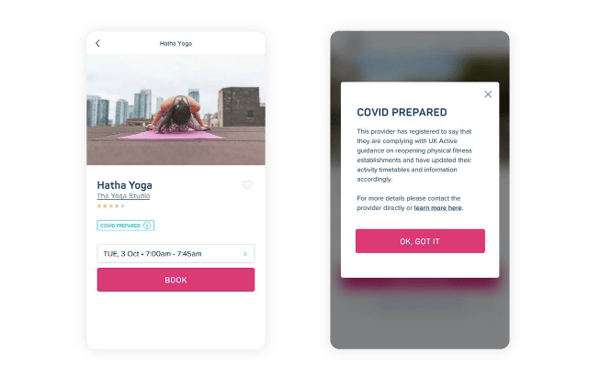 Social distancing
To help everyone observe this there'll be new signage, route (one-way) and spacial markers, as well as rearranged spaces and equipment.
There might also be reductions in class capacity and temporarily reduced hours overall, with specific slot and even venue area/zone bookings in some cases.
High hygiene standards
Expect more frequent and deeper cleaning with thoroughly cleaned equipment after each class.
Drinking fountains will be removed.
Hand sanitiser and self-cleaning stations will be placed around the workout areas and near exit and entry points.
Customers will be encouraged to bring their own equipment i.e. yoga mats.
Changing and washing facilities might be closed or be less accessible and with reduced occupancy.
Some venues and instructors will offer face masks, some might insist on it, some might leave it to personal preference.
General measures
There'll be more frequent risk assessment as levels of activity and attendance grow back.
Measures will be taken to increase ventilation as well as increased outdoor activity options.
Here's what else you can do:
Social distancing
Keep distance between yourselves and others
Visit at quieter times if possible
High hygiene standards
Clean your kit/equipment before and after each activity while in the venue (consider bringing a small pack of disinfectant wipes for equipment or facilities you do touch).
Don't take 'sweat' towels onto the workout or studio floors
Wash your workout gear as soon as you get home, no matter how much you sweated during your session.
Shower at home after your workout, not at the venue.
Bring your own hand sanitiser just in case there is low supply at the venue.
Bring your own face mask if you wish.
Bring your own equipment to class i.e. yoga mat, water bottle
This list is not exhaustive but we hope it's as comprehensive as it needs to be for now. That said, if there's something you'd like to see added or considered, please don't hesitate to drop us a line.
As we all step back into the venues, studios and centres we love, this will only work if we all collaborate together. So let's do this!