Alice at Flow Yoga Bristol gives top yoga tips for cyclists!
"Cyclists often talk about the ideal 'flat back' posture, which essentially means avoiding an excessive curvature in the lower back region. This overly hunched posture is more likely to cause lower back pain and make it harder to breath properly.
These 2 yoga postures will increase flexibility in the lower back and hamstrings to facilitate a flatter back posture.
1. Pelvic tilt­ to increase lumbar flexibility

Lie on your back with your legs bent and arms by your sides. Inhale to keep your pelvis on the floor but raise your abdomen off, so there is a gap under the lower back. Exhale to press the abdomen into the floor so that the lumbar spine flattens. Perform this four times, synchronising the movement with the breath.
2. Strap ham string stretch­ to lengthen the hamstrings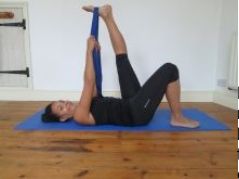 Loop a strap around the sole of your left foot. Bend your right leg. Straighten your left leg as much as your hamstring will allow. Walk your hands up the straps until the arms are straight. Hold for 5 to 10 breaths and repeat on the other side. If you don't have a yoga belt you can use a long towel or a normal belt.

As always when practising yoga, listen to your body and don't go beyond your limitations."
Alice offers a weekly yoga for cyclists class and welcomes all cyclists, athletes, and everyone that would like to try this class (all levels welcome). Please click here to book