If you're not foam rolling (or to use the fancy speak - practising self myofascial release), you should be. Check out our 4 reasons why you should foam roll (plus a full body foam rolling routine!)
1. It helps improve mobility
A 2012 study found that people who used a foam roller on their legs before they worked out experienced a higher range of mobility in their knee joint. Increased mobility can help improve posture and can help combat any everyday aches and pains that we experience.
2. It can help prevent injury
When we use our body the wrong way or simply over-use it, we can end up injured. Foam rolling can help stop us getting to this point, by breaking down the knots that if left untreated can cause us injury.
3. It can improve recovery and reduce soreness
A study published in Medicine & Science in Sports & Exercise conducted an experiment into whether foam rolling can reduce soreness and increase recovery by testing the impact of it with a group of men who had performed a series of squats.
Two groups of 10 men performed a series of challenging squat sets and were then asked to evaluate their soreness level, quad and hamstring range of motion, performance on a vertical leap test, and a variety of measurements of muscle electrical activity. These were repeated one, two, and three days after.
After the initial period of soreness and range of motion tests, half the men did a five-exercise foam rolling routine targeting the muscle groups in the thigh, while the other half did nothing.
The results showed that the group who used the foam rollers muscle soreness decreased one, two, and three days after the exercise and led to a better performance in a vertical leap test.
4. They are cheap and convenient
Priced on average between £10 and £20, the cost of a foam roller will set you back less than that of one deep tissue sports massage. You can also foam roll in the comfort of your own living room. Bonus.
Here's an easy full body foam rolling routine to get you started, plus some top tips on how to foam roll:
1. Using the roller and your body weight, apply moderate pressure to a muscle group. When you find areas that are tight or painful, continue to roll around these areas. After 5-30 seconds the discomfort or pain should lessen.
2. Don't try to foam roll your lower back or neck
3. Remember that as awesome as foam rolling is, it's no match for a medical professional. If your pain is prolonged or worsening then be sure to go and get yourself checked out.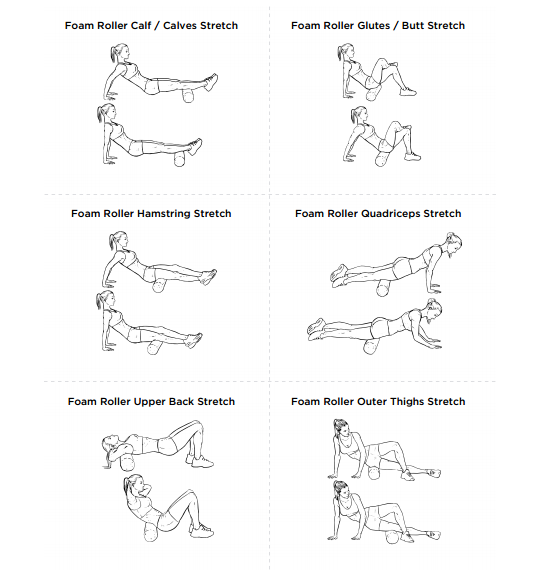 Image courtesy of Workoutlabs.com