Motivation is an integral part of sustaining a healthy and active lifestyle. It comes in all shapes and forms and is individual to everyone! So who better to get motivational tips from than professional athletes? In the final part of our motivation series, GB Active speak to kayaker Matt Bowley to get his top tips on how to stay motivated.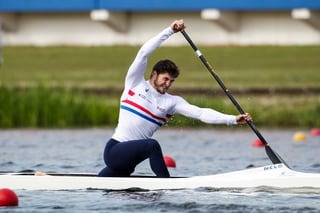 Image courtesy of www.twitter.com
Mathew is a sprint kayaker who has competed at the World Championships in 2014 where he came 9th in the U23 Men's K2 1000m race. He's currently studying for a degree in Sports Science.
Q1 – What keeps you motivated and keep giving a 100%?
Matt: My passion for canoeing and love of the sport, the continuing sense of improvement and gains I see helps me to keep going.
Q2 – When you are having dinner with your friends (who are not pro athletes) how do you motivate yourself to stick to your own diet without giving into the temptations of others?
Matt: I find this particularly hard as I feel it's one of my biggest distractions eating right, however I try to remember that giving in to wrong food will have a negative affect on my performance, and making the correct choice is important especially before races and peak seasons.
Q3 – When you have a tough workout or drill how do you push through it?
Matt: When training within a group I know everybody is going to be feeling the same pain, which gives me greater motivation to push through. Remaining positive is also important, the harder you try the quicker it will be over and try and remember that. No pain no gain!
Q4 - What advice would you give to people to make their lives happier?
Matt: Enjoy and love what you do and eat right as that keeps you highly motivated and gives you a sense of improvement and gain. Fitness and exercise can be tough, but if you make it fun and interactive you will feel a lot happier about yourself - the same goes for nutrition. Try to remember that giving in to the wrong food or constantly skipping workouts will have a negative effect on your mind and outlook, and making the correct choice gives you a positive mind set about everything.
Q5 - What inspires you to keep going when you're feeling discouraged?
Matt: Being a football fan, when Liverpool came back from 3 - nil down to win the champions league in 2005 I felt very inspired!
Want the chance to be trained by Matt? Then check out GB Active now!