It's a pretty scary stat - the average gym-goers routine lasts a mere eight weeks! If this is a statement that rings true with you, or if you find yourself regularly skipping your workouts, it's time to take action to ensure you're not destined to life as a couch potato.
There are 4 key Pillars for staying active for life
1. Convenience
2. Variety
3. Movement
4. Life
In this series we will look at each pillar in depth - today we're talking about the pillar of ' variety'.
There have been many studies that show that you are more likely to maintain an active lifestyle if you take part in a variety of activities that move your body. A study published in Psychology and Health found that trying a new exercise class or way of working out not only can make us enjoy working up a sweat more, but might also make us more enthusiastic about working out in the future. The results showed that people taking part in a new exercise reported higher levels of positive feelings and expressed a greater interest in working out regularly in the upcoming month than the group doing an exercise they have done before.
Here at Move we have vast amounts of exercise behaviour data and our own studies that show correlation between variety and exercise adherence. We found that members using our Flexible fitness membership who attended a variety of different venues, were twice as likely to still be active after 6 months vs those who only attended a single venue.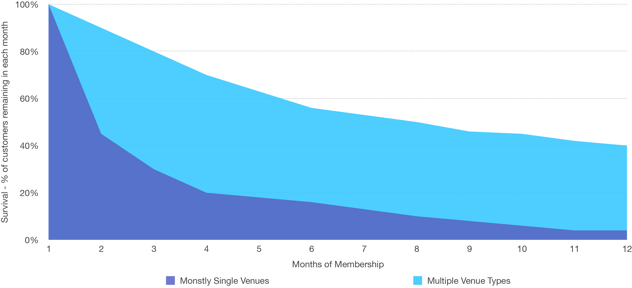 So there you have it - trying out something new in your workout routine not only can do wonders for motivation, it can also make keeping fit easier. Obviously we're not suggesting you give up your favourite class, (half the battle with creating sustainable habits is finding something you love and sticking at it!) but if you find yourself stuck in a rut or if you're finding it hard to get into your groove then mix it up - your body and mind will thank you for it.
If you found this article helpful then keep an eye out for the rest of our 4 Pillars series!