Want to feel warm and fuzzy inside this Valentines? The answer might be where you least expect it...
Yep, science says that if you want to feel closer to your other half or secret crush this Sunday, then swerve the candlelit dinner or movie date and hit the gym!
There's a ton of reasons why it's great to workout with your loved one, here's just a few of our (science backed) favourites:
1. It increases your emotional bond
Yes - there really is such a thing as bonding over bicep curls. If you ever get the overwhelming feeling that you're "in tune" with your partner whilst you jog on neighbouring treadmills or simultaneously smash out squats, it's because of something called nonverbal mimicry. A 2010 study by Stel and Vonk found that people who experienced nonverbal mimicry reported greater feelings of having "bonded" with their partner.
2. It can make you fall in love!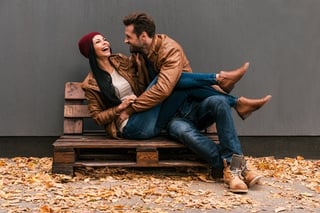 Want to get the attention of your crush? Then invite them to workout with you and work up a sweat. Shortness of breath, a quickened heartbeat and sweat are all by-products of a great workout and mimic the feelings of physical attraction (Dutton & Aron, 1974). So, if they don't fancy you before your workout - they will at the end!
3. It can make you feel happier in your relationship
We all know that one of the best things about exercise is how amazing it makes you feel afterwards! A 2000 study found that when couple's participated in arousing or exciting activities, they reported feeling more in love with their partner and more satisfied in their relationship.
4. It can heat things up in the bedroom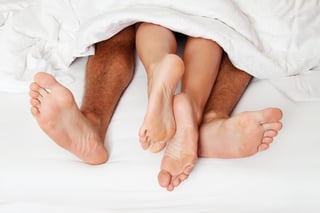 Looking for a way to reignite the spark in your relationship? Aerobic exercise can increase blood flow "down there" and the increase in testosterone levels after your workout has been shown to make people feel sexier. A study by Harvard School of Public Health, found men who exercised vigorously for 20 to 30 minutes were about half as likely to have erection problems than their lazier counterparts.
And it's not just the guys that benefit from a little bedroom boost. Researchers at the University of Texas at Austin studied a group of 18 to 34 year old women to see the effect that exercise had on their lady bits. On two separate occasions the women were asked to watch a short travel film, followed by a naughty film. On the first occasion they completed 20 minutes of vigorous cycling before watching the films but on the second time they didn't.
Researchers found that blood flow levels travelling to their lady bits (you know the stuff that makes you feel all tingly) were a massive 169% greater after exercising. It's like Nike say: Just do it.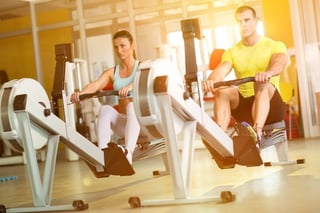 Flying solo this year? Don't sweat it. An other half isn't essential for fitness success (and be happy in the knowledge that you won't ever have to compromise on when leg day is). Alternatively grab your BFF this Valentines and get sweaty together, as people with a workout buddy are more likely to perform better at aerobic activity.
So share this article with your beloved, your crush or maybe with a friend you want to give a few tips in the love department to!