The saying goes "abs are made in the kitchen so get crunching!" - do you know what that means? You can workout to the best of your abilities, smash your sessions and feel like an exercise god/goddess… but if you're not fuelling your body correctly, you could be undoing all your good work. Time to delve into delicious post-workout meals to refuel your body.
We've teamed up with Mindful Chef to bring you 6 dinner recipes that will help your body recover from workouts and place you in the best possible position to get the results you want. Mindful Chef is a health-focused food box company that ships fresh produce with healthy recipes straight to your home. With a focus on healthy lifestyles that contain reduced sugar and no refined carbs, their recipes are based on innovative uses of fresh vegetables and lean meats.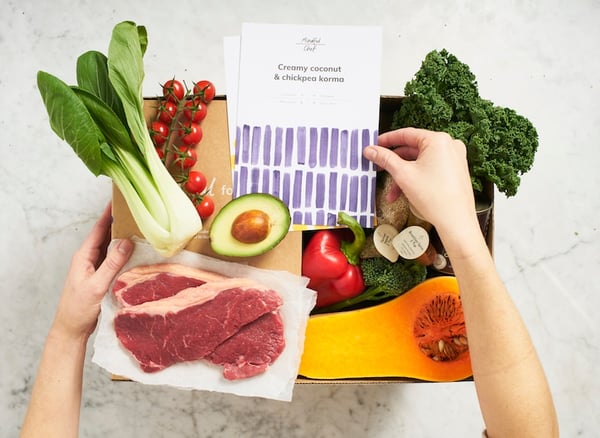 Not a cooking connoisseur? Don't worry - every recipe contains just 10 ingredients and takes 30-minutes to prepare. Got food allergies? All recipes are gluten-free and dairy-free.
6 Post-workout meals to refuel your body
After a sweaty session, you may feel the urge to consume everything in your vicinity under the thinking of 'I deserve it'. Well, you sure do! Especially as your body will be using the calories to repair and recover. But make sure you're filling your belly with the good stuff to ensure your body has everything it needs to cope with the workout aftermath efficiently.
Post-workout meals should be a good balance of protein and carbohydrates, and eaten within the hour of working out to let your body recover effectively…. So what's on the menu?
Chimichurri Steak with Roasted Pepper & Baked Sweet Potato
Macros: 558 calories • 49g carbs • 23g fat • 41g protein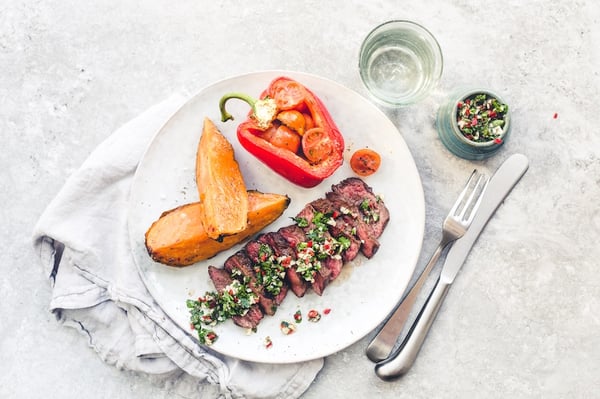 Your post-workout meal should include a good amount of protein, carbohydrates and be slightly lower in fats. Training will lead to a breakdown of muscle tissue which can be repaired by protein (or more importantly amino acids). Be sure to use only the highest quality, organic sources of protein.
See the full recipe here: Chimichurri steak with roasted pepper & baked sweet potato
Moroccan Salmon, Pomegranate & Chickpeas
Macros: 641 calories • 76g carbs • 24g fat • 38g protein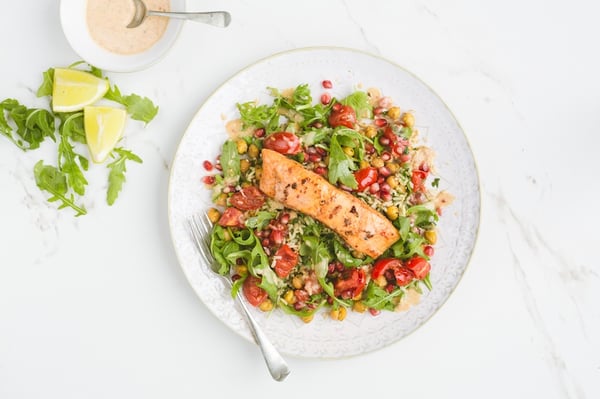 Eating carbohydrates will help replenish glycogen stores that have been used up through training. Look to include quality sources of carbohydrates like sweet potato, butternut squash and other nutrient dense vegetables to encourage recovery and repair.
See the full recipe here: Moroccan salmon, pomegranate & chickpeas
Pork Paprika Chilli with Sweet Potato Wedges & Avocado
Macros: 580 calories • 55g carbs • 24g fat • 39g protein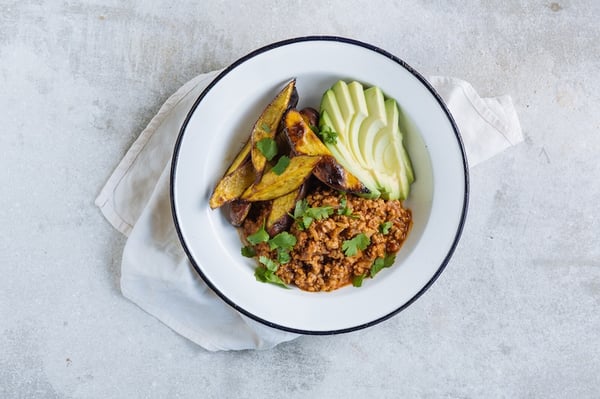 Not all fats are the same - good fats are essential for the body, play an important role in vitamin absorption and are an amazing source of energy. Use healthy fats like nuts and avocados and never include bad fats (like the ones you might find in processed foods). You're safe with this delicious chilli!
See the full recipe here: Pork paprika chilli with sweet potato wedges & avocado
Vegan Roasted Squash and Buckwheat Risotto with Crispy Sag
Macros: 521 calories • 78g carbs • 17g fat • 17g protein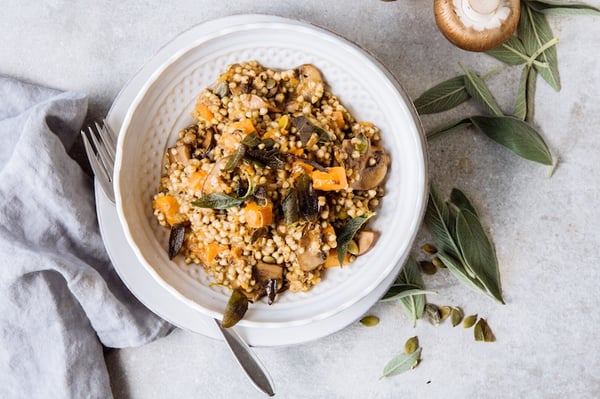 If you're following a vegan diet it's important to look out for plant-based sources of protein. Buckwheat is a great gluten-free carbohydrate source, high in both protein and fibre - perfect for an after exercise feast.
See the full recipe here: Vegan roasted squash and buckwheat risotto with crispy sag
Vegan Stuffed Aubergines & Apricot Chickpeas
Macros: 638 calories • 107g carbs • 19g fat • 22g protein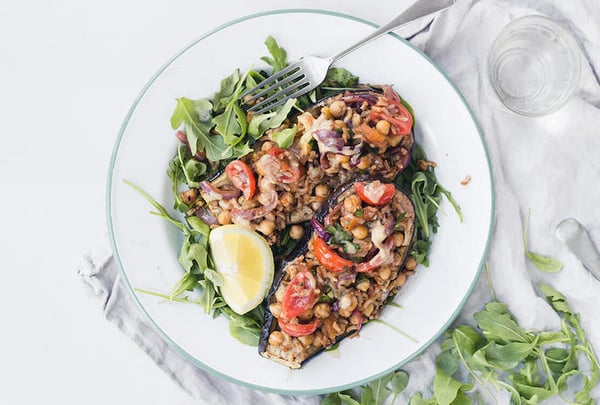 Soft baked aubergines are stuffed with dried apricot and chickpea spiced rice and drizzled with tahini, a paste made from toasted sesame seeds.
This dish is stuffed full of goodness - aubergine bring great dietary fibre, plus potassium and vitamins B1 and B6. Not to mention it's high in magnesium - great for muscle repairing. Sesame contains high levels of zinc, which helps to produce collagen for skin strength and elasticity.
See the full recipe here: Vegan Stuffed aubergines & apricot chickpeas
Indian Chicken Thigh & Jackfruit Curry
Macros: 647 calories • 68g carbs • 25g fat • 41g protein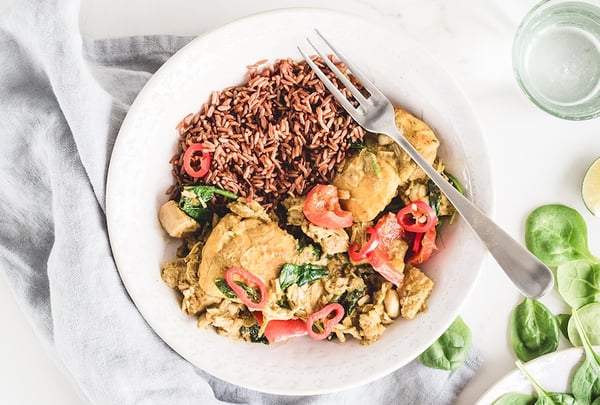 Dish up a creamy spiced curry with juicy chicken thighs - a great source of lean protein! Get your veggies in with the added spinach, red pepper and tropical jackfruit. Jackfruit is a great source of protein and carbohydrates as well.
Alongside is a nutty red rice, which has a higher nutritional value than white rice, as its red coloured husk is loaded with iron and zinc.
See the full recipe here: Indian chicken thigh & jackfruit curry
Now go forth and be the perfect picture of health!