In collaboration with Caleño.
A new year has come around, and as usual, many of us make grand resolutions to help us make this year the best one yet! Healthy lifestyle adjustments are always top of the running as we're all determined to shape up, feel better and not overindulge after the Christmas break.
It's about getting the balance right - we're all about enjoying ourselves but also ensuring that our body is nurtured. Especially if we're all run ragged from the festive duties. January is a great time to start afresh as not only does the new year bring a clean slate, but we're all reeling from overspending and overindulging in all the deliciousness Christmas time brings. Time to get our lives back together after the madness!
Focus hones in on health and fitness, and getting stuck into favourite workout sessions again - they become a lot more attractive than in December!
But life carries on and can get in the way. Social events continue whether you like it or not, such as weddings or boozy roast lunches to hide from the January Blues. So how can you enjoy these inevitable social engagements without sacrificing your post-Christmas health kick?
All the fun with none of the alcohol
The trend of 'working out is the new going out' still reigns strong with more Clubbercise classes and disco spin sessions on the rise! But when you do have to go out, why not consider alternatives to booze? Especially if you are wanting social drinking to not interfere with your workout progress.
The market is booming with low-alcohol and alcohol-free spirits, beers, wines, champagnes and ciders – the ideal solution to enjoying yourself without enduring a hangover so you're fighting fit the next morning. No more hazy, sick mornings and without sacrificing delicious tipples!
We're predicting alcohol-free spirits will be a huge trend for 2020 and we're all for checking it out. 2019 saw plenty of newcomers to the market, including the tropical free-spirit of Caleño. It's a non-alcoholic spirit that pairs perfectly with plenty of mixers, or as the key ingredient in an array of fruity cocktails if you fancy mixing it up.
We caught up with the Caleño team to find out how the so-called 'no and low' industry is changing our relationship between staying healthy and having fun.
Why now for 'no and low'?
As more and more of us take charge of our health and wellbeing, people are looking for ways to enjoy themselves without needing to drink so much. A study between 2005 and 2015* showed that young professionals are increasingly likely to identify as non-drinkers.
It doesn't have to be permanent though – many are choosing to go no-or-low in moderation with alcoholic drinks. It's all about enjoying yourself with the flexibility of choosing when, where and what you drink.
What is Caleño?
The brand was founded by entrepreneur Ellie Webb. On a night out where she wasn't drinking, Ellie realised the alcohol-free options in most places she socialised were either unimaginative or unavailable. On a trip back to her ancestral homeland of Colombia, she was inspired by the unique flavours of Latin America that she couldn't see anywhere on the non-alcoholic menu back in the UK.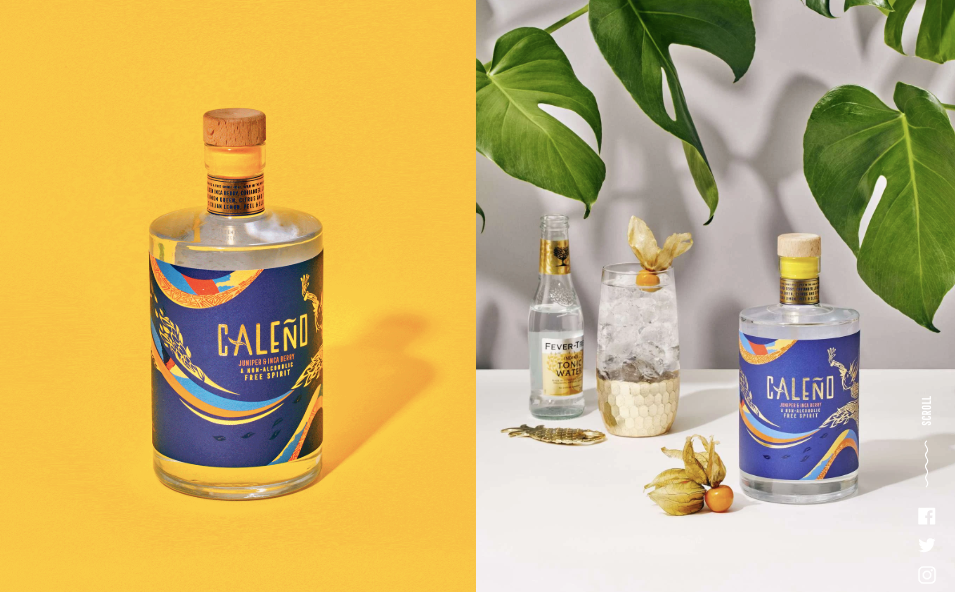 Bringing some of those essential flavours back to England with her – including pineapple, papaya and Caleño's signature ingredient, the golden Inca berry – she poured all her time and energy into developing a delicious, versatile and moreish fusion of steam-distilled botanicals. The result is Caleño, an accessible and simple infusion that's bringing a fresh sense of joy and vibrancy to the alcohol-free market.
Dry January? More like Joyful January
We know that January can be a time when people feel pressure to get things together for the new year, but we're all about seizing the day and the decisions that come with it.
January should be a month of joy, where you can do what you want without obligation and make decisions on the fly. If you don't or can't drink on post-gym evenings out, no problem! You can still enjoy a fruity kick without the added alcohol.

January is a month filled with 'lifestyle changes' like Veganuary and Dry January, which encourage people to try different lifestyles with the ultimate aim of making it a permanent, purposeful change.
Celebrate January as the start of a new year – rather than a compensation for an indulgent December – and find new, sustainable ways to enjoy yourself for the year ahead. It's all about those healthy habits, no matter what you want to change or include in your resolutions. Start small and before you know it, you can change your life very quickly.
*https://bmcpublichealth.biomedcentral.com/articles/10.1186/s12889-018-5995-3