Here at MoveGB, we have a plethora of amazing members who embrace being active and also work hard to inspire others to lead an active lifestyle.
Our ambassador programme focuses on just that: inspiring people online to get active offline. We work with people all over the country, from all walks of life, to help get the nation active and spread the word of MoveGB! It's a tight-knit group who work closely with us, so it's about time we introduce them to you!
If you're a big fan of MoveGB and are interested in joining our Ambassador programme, then hit this link to find out more and register.
Meet our Ambassadors: Charlotte, Sheffield
Charlotte Wager-Hall is also known as @SkinnySchedule on instagram and other social media. She's a blogger, podcaster and of course an ambassador for MoveGB. She found her passion for health and fitness after finding success in Slimming World in hitting her goals. She lost over 4 stone and even got featured on the cover as the face of Slimming World's magazine in 2018! Amazing!
"I'm really passionate about getting people to move more, as there are so many health benefits. It's really important to help people find activities they enjoy, which means they will continue to stick at it. Fitness doesn't have to be chained to the treadmill, there's so much more! I vary my fitness routine, to match my mood and energy levels which works perfectly in keeping me motivated to stay on track." - Charlotte
How it all started
I was bored of attending the same gym and having the same classes - I craved variety and flexibility, so when I discovered MoveGB I loved the concept instantly. Trying new workouts and activities has been great fun, and a new way to socialise - it completely reignited my passion for moving more as I now have a range of venues with a huge variety of facilities and skilled classes.
After a long, stressful day at work, I can get to hot yoga and then enjoy a session at a nearby spa. But if I'm full of energy and in need of a hard workout, I have lots of classes to choose from. Even if I'm short on time, I can quickly pop in to a nearby gym, swimming pool, HIIT class - the options are endless.
Some of my favourite activities in Sheffield include Hot Yoga at R1SE and Hot Yoga Sheffield, B-Fit Feel the Burn and Prime Mover Fitness Meta Attack. Why? I like how those gyms have a team spirit vibe to their classes, with small bootcamp style set-up. It's so engaging, plus they're super welcoming too which is a must for any fitness venue. It makes me look forward to returning!
Fitting it all into a busy schedule
Before MoveGB, If I missed a class due to work, there weren't other options. I'd missed my chance to workout which is frustrating to say the least.
It's great having a host of activities at my fingertips on the app for when and where I want - even if I'm working outside of Sheffield! It's one membership which has no confines of a single location.
"There's something really liberating to see what your body is capable of doing, and being physically strong and healthy. The endorphins after a challenging workout is fantastic, and so is the chilled state of zen after a yoga class. Working out for me is essential, like air and water. I need to stay on top of my fitness for my health and wellbeing. I do it for myself."
Time can be my biggest enemy. In the past, if I was busy my fitness would be pushed to the bottom of the 'to do' list for the day. But now I know that I can't look after others unless I look after myself and place that as a priority. MoveGB means if I miss a workout due to work, there's always something else I can do, so there's no excuses.
Keeping it real on the 'gram
Be you - that's always more than enough! It's helpful to record your progress as you transform physically - but don't get hung up on physical appearance. My confidence grew hugely once I started getting more active! And recording it online helped me adhere to my routine.
I love sharing on social media as it encourages others to try new classes and discover new venues, as well as helping support local businesses and giving well deserved shout outs to the trainers who are helping you.
Advice for those who want to begin an active lifestyle
Remember, there's no such thing as a bad workout - only the one you didn't do. I try to think about how I feel AFTER my workout, and choose an activity to boost or relax my mood.
MoveGB has given me my passion for fitness back, and has given me lots of new things to try at a time and place that's right for me. Also, it's helped me out financially as it's simply not cost effective to be a member of multiple gyms and pay for additional classes. Enjoyment, variety and flexibility is what I need.
I #MoveForLife, and I do it for myself. If you're starting out, try as many activities as possible so you can find what you enjoy. And get friends involved! It's so much more fun to workout together.
Remember everyone has to start somewhere. Everyone is welcome in the gym. Don't expect results overnight, but be consistent and you'll start feeling the benefits!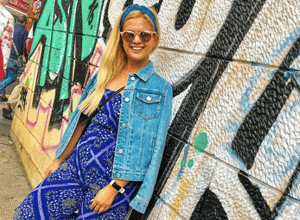 Go say hi to Charlotte over on Facebook, Instagram, plus you can also find her on YouTube for more information on how she leads her healthy lifestyle - from recipes to chats with other people in the industry!