When it comes to fitness, there are two types of people: those who embrace the long hot days of summer, and are motivated by upcoming summer holidays to explore new fitness activities. And those who train the whole year round, come rain or snow, keeping their fitness as a long-term health investment.
If you fall in the former category, but want to change your mindset and lifestyle to retain fitness in the colder months, then we've got some top tips for you. Not only will keeping your fitness throughout the colder months be great physically, it can work wonders on your mental health. And let's face it, every little helps in keeping us positive and energised when the deep freeze descends!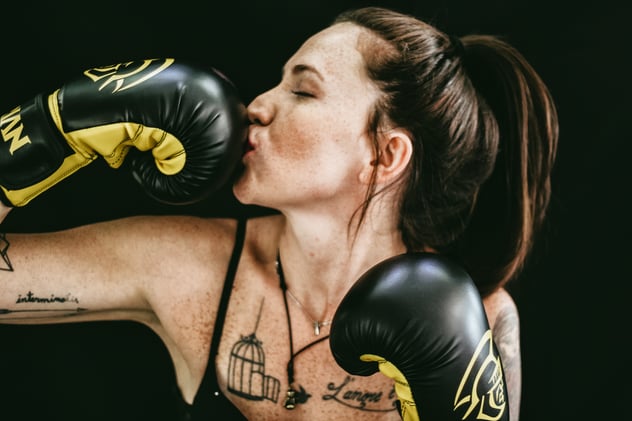 So what kind of training can you do throughout winter? From indoor workouts like Spin, Boxing and gym sessions, to outdoor sessions that will keep you sweaty and warm - bootcamps and running clubs don't cease to exist over the winter period! Don't forget to login to your MoveGB account to explore the 1000s of activities - you'll never be short of inspiration. Train where you want, when you want, and be spontaneous in your fitness choices - to take on activities to suit your mood!
But first, time for Healthy Living London, London's top inspirational health and fitness magazine, to get you motivated to leave the warmth of your house in your workout gear...
6 Tips for keeping fit over winter
Embrace winter.
Winter is an awesome season! And yet we often only focus on the negative. There's something quite spectacular about being out and about early, when the day is often at its most crisp and refreshing.
There will be fewer people around both early morning and in the evening so enjoy the peace and the mood lighting, whether you're off for a run or travelling to a studio.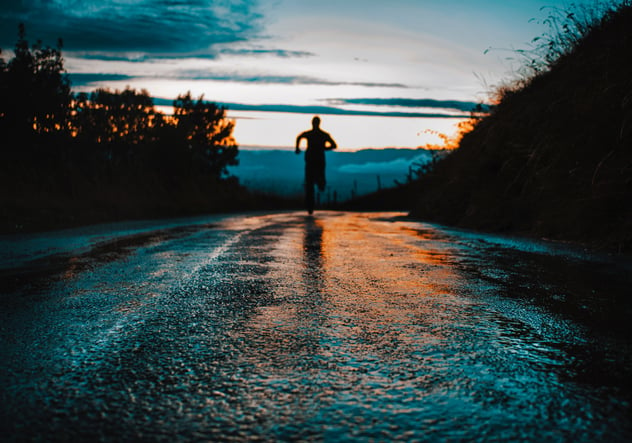 Be prepared.
Since 1907, Robert Baden-Powell's well-known phrase has helped Scouts and Guides worldwide ready themselves for whatever was to come. And there's a reason why it has stood the test of time.
Preparation is key to success and definitely applies to exercise. Figure out exactly what you're going to do and what you'll need the night before. Pack your gym bag, lay out your clothes, know what time you'll need to leave, and especially if you're going to a new venue, have your journey mapped out.
Layer up the smart way.
When working out outdoors, do you ever find yourself leaving the house bundled up in big scarves and jumpers only to have to fight your way out of it once you warm up? Layers are a fantastic way to deal with the issue of needing to stay warm pre-workout, then coping with overheating once you get your blood pumping.
Choose smart layers though:
Light, thin layers

Opt for a sweat-wicking base layer (wool blends, silk or synthetic materials such as polypropylene)

A fleece layer for warmth

If the weather is windy or rainy, take a breathable outer jacket.

Avoid anything made from plastic or rubber as this can trap moisture and make you cold!

And the frost is

real,

don't forget a light pair of gloves and a hat which covers your ears. Again, wool-blends are great as even, thin layers keep you toasty.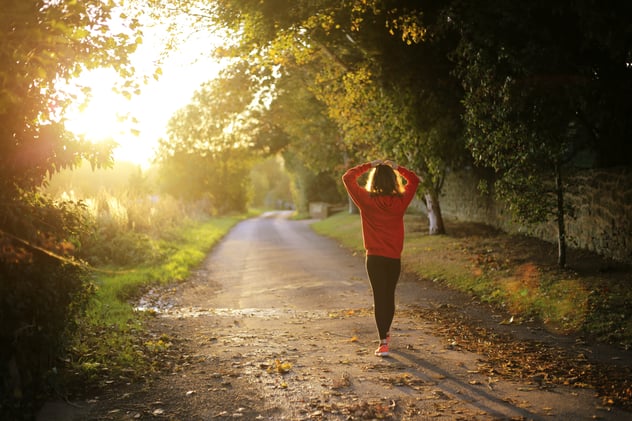 Be seen. Be Safe.
With days getting darker earlier and with increased likelihood of rain and ice, it's important you've got safety as a priority. Bikes and cars are all hazards and to stay safe, you've got to be seen.
Invest in clothes with reflective strips built into the garments or buy high-vis or reflective tape which you can stick or sew onto your jacket or backpack. If you're cycling, back and front lights are a must.
Use the 5,4,3,2,1 tactic.
USe this tactic to get yourself out of bed. Especially when mornings are dark, it can be hard to break free of your cosy duvet, even when you know you'll be grateful for it later. However, there's nothing quite like starting the day with an exercise-related endorphin release. Instead of hitting the snooze button, count backwards from 5 to 1 in your head and make the pact with yourself that when you reach 1, you'll get straight up and go.
If you really hate outdoor fitness, train indoors.
If you're the kind of person who hates the cold, don't force it and take workouts indoors instead. After all, any fitness is better than none!
There are more studios and gyms than ever before, each with their own unique classes so you'll be sure to find a class you love. Really hate the cold? Sign up for a hot yoga class and stretch your stresses out.... or just stay at home with these awesome workout videos.
Check out some of our other hacks on getting back into fitness after the warmer months.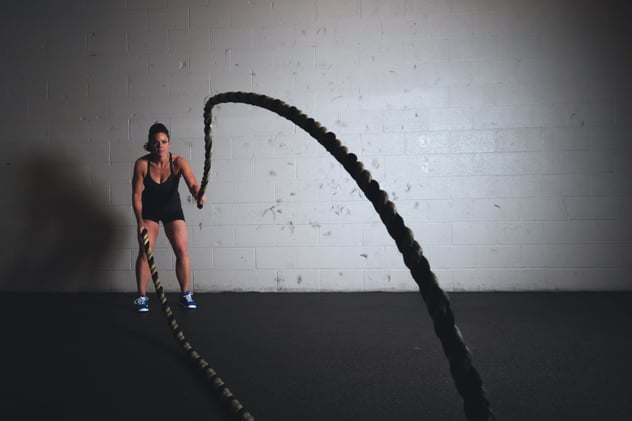 The main point to remember is that exercise isn't a punishment! If you're forcing yourself and you don't feel good after, maybe you need to switch up your fitness and try something entirely new. Don't forget, we've got hundreds of different classes on offer - surprise yourself and sign up for a class you'd not normally take. Not only will your body thank you for mixing up your training but you may find yourself enjoying a whole new sport! Winter? Bring it on.
Healthy Living London is an online magazine which inspires busy people to eat better, sweat more and breathe, featuring reviews, interviews and healthy recipes. Follow them on Twitter and Instagram.