Fitness should be fun - that's our mantra which we want everyone in the world to know! Sure, you can sweat but can you smile at the same time? It's all about finding the activity that's right for you and if it makes you happy, you're more likely to stick with it.
Whether you like hanging from the ceiling by silks, shimmying a hoop around your waist or channeling your inner Beyonce in a hip hop dance class - there's something out there for everyone. And they don't have to be your typical workouts.
So it's about time we take a look at roller skating. That's right - the 1970s called and they want us to get our skates on again. But if it's been a hot minute/decade since you rolled around, then check out our beginner's guide to roller skating!
We chat to the cool cats at PlayTone all about learning to roller skate and we have a heap of hot tips for ya. PlayTone champion alternative fitness - embrace the fun factor and tone up at the same time with their hula hooping and roller skating sessions on MoveGB in London!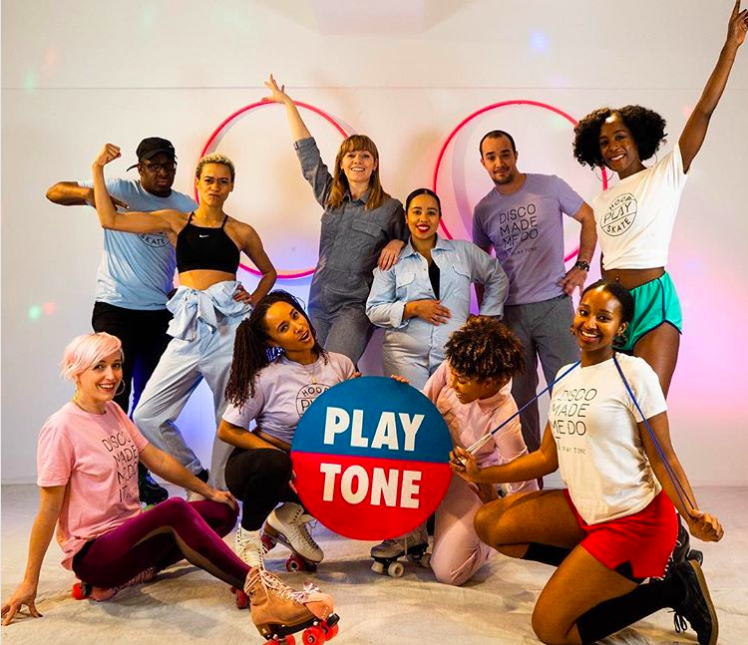 PlayTone's 'Learn to Roller Skate' sessions are on a few times a week in two different London locations:
Beginner's Guide to Roller Skating, with PlayTone
You may be thinking 'Why should I give skating a go?'
It's pretty easy to answer this as the list is endless! It gets your heart pumping and if you skate hard, you'll work up a sweat. An hour can zip by in what feels like minutes when fabulous beats are playing and you'll release plenty of those feel-good endorphins!
Exercise shouldn't feel like a chore, and it's always best when enjoyed with friends. Roller skating is a super social sport as you can be in a room or rink with hundreds of others feeling the music and trying out your moves - group fitness is incredibly motivating and inspiring to many! And have you ever seen a grumpy person skating? The answer is never!
The benefits of roller skating
How will roller skating affect my fitness levels?
Roller skating is just as aerobically effective as running, swimming and biking! Except as you're busy socialising and practising your moves, you don't realise how long you've been on your wheels.
Depending on the intensity of your skating, roller skating can be a low or high calorie burner - if you really gun for it, roller skating can actually burn up to 482 calories per hour!
Skating will improve your fitness levels, especially in the cardiovascular development, muscle strength and lung capacity. An hour of skating burns as many calories as running while strengthening your leg muscles. 30 minutes of roller skating produces a heart rate of at least 148 beats per minute.
Which muscle groups are worked the most?
The extra weight of your skates on your feet and the rolling motion of the wheels allows you to have more fun with your workouts whilst targeting multiple areas. Our roller skating sessions in London will have you working on your stability, core strength coordination and much more. Expect your glutes, quads, abs, calves and arms to get a good workout! Secondary muscles worked are the erector spinae in the back and your obliques (#WindYoWaist).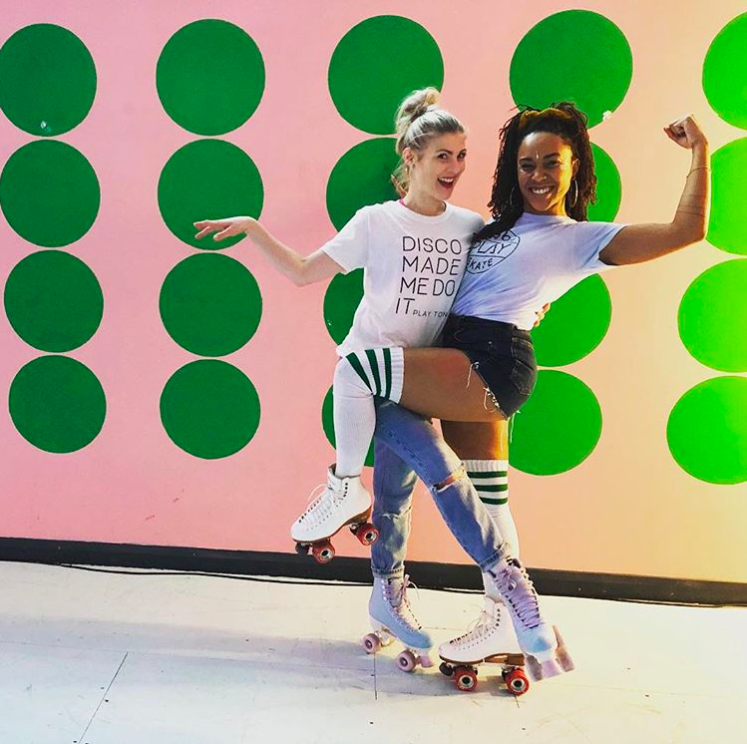 And since roller skating has a fluidity to the movements, it causes 50% less stress to your joints than running. Just be sure to always skate on smooth surfaces and avoid making sudden stops, turns or twists to reduce the impact on your joints.
I have no idea how to skate! Do I need to know the basics before attending a beginners class?
No way! As long as you're willing to level up with PlayTone and try something different and alternative, then this is the lass for you. We love total beginners and our mission is to get the nation rolling no matter what age or ability. These classes are for all levels!
What can I do to prepare for my first roller skating lesson?
Limbering up and stretching your body is key for being prepared. During skating, your body takes a lot of twists and turns, so preparing the muscles for these movements is key! And the more flexible your muscles are, the more protected you are from injury. But don't force stretches as that will definitely lead to injuries before you've even started skating!
Stretches such as quadricep stretches to loosen up the front of your thighs and your hip flexors, hamstring and glute stretches, half or full splits, and hip openers like the yoga 'pigeon pose' are really helpful. Yoga can really help increase your range of motion!
Don't forget your upper body as well. It's all about loosening and moving your shoulders and neck. Yoga sequences, such as sun salutations, can really stretch your entire body and get you prepped for skating.
What should I wear to my first roller skating session?
You'll get hot and sweaty so be sure to wear anything stretchy and cool! Leggings, joggers, t-shirts, vest tops - the usual workout gear is fine. As long as you can move comfortably!
And don't worry about wearing super thick socks. The skates we provide fit true to size. And the skates we provide are kick-ass! We're proudly sponsored by Rookie Roller Skates - the coolest vintage style skates around. We have skate sizes UK 3 - 11 available to hire, along with knee and wrist pads.
What should I expect from my first roller skating session with PlayTone?
You'll get to learn roller skating basics and combine the art of skating and fitness in our classes! Our special 'Learn to Roller Skate' sessions are low impact and high-intensity classes, with games and tricks guaranteed to get the heart pumping and pop smiles on faces all around.
The moves you'll learn are:
Moving and glide forwards

Stopping

Falling safely (it will happen so best learn how to fall the right way!)

Spinning

Team activities and games that incorporate all you learn
You'll work up a sweat and meet the fab community that is PlayTone - we're a family. Our classes have 15 spots each so you'll get the attention you need.
Once you've grasped the very basics, we'll progress onto more advanced moves like skating backwards, spinning, crossovers and fancy footwork - these cool tricks will really work your fitness and your core is going to get STRONG!
Will I get hurt learning to roller skate?
You will fall when you're learning roller skating. Heck, even the most experienced of us fall over! We recommend knee pads and wrist guards to help you stay as safe as possible (all of which are provided in class).
Leave what you know at the door - we have a range of techniques to get you started safely and effectively. Roller skating requires some levels of balance and over time, you will see improvements to your core strength and your balance.
And if you fall, style it out! Strike a pose on the floor! Failure means you're trying, so as long as we learn and laugh at our mistakes (and don't beat yourself up about things) then you should progress in no time!
Relearn the art of playfulness and have fun with friends, while also getting fit! PlayTone's 'Learn to Roller Skate' sessions are on a few times a week in two different London locations: