We have a huge amount of respect for the incredible feats of our athletes. It often has us wondering if they're super-human, from another planet or genetically modified as what their bodies can achieve is absolutely incredible. But how on earth do the UK's top athletes stay motivated?!
We all have those days where we would rather hit snooze and bury our heads under the duvet at the thought of our next workout. But these athletes have to push beyond any normal every day demotivating vibes, plus stay motivated through injury and setbacks they encounter in their careers. Time to find out how they overcome obstacles and succeed…
What is GB Active?
GB Active is a bootcamp with a twist in Green Park, London. You're training with actual GB athletes who deliver a high standard of fitness sessions. They use exercises and techniques during the bootcamp which they actually use themselves in their own training.
Their fun team of GB athletes are from various different sporting disciplines and have competed at Olympic, World, Commonwealth, European and National level. But don't be intimidated! It's for all levels and abilities, and it's in a fun and motivational environment. It's a workout which will show you exactly how athletes condition and strengthen their bodies.
We chat to GB Active trainer and triple jump superstar, Michael Puplampu, to find out exactly how he overcame his obstacles and didn't throw in the towel. Plus what he brings to his GB Active training sessions...
How the UK's top athletes stay motivated, with GB Active
Hi Michael! Please introduce yourself…
I'm Michael Puplampu and I do the triple Jump! I've competed for Great Britain and have been a British Universities Champion, England Senior Champion, and recently became the British Champion.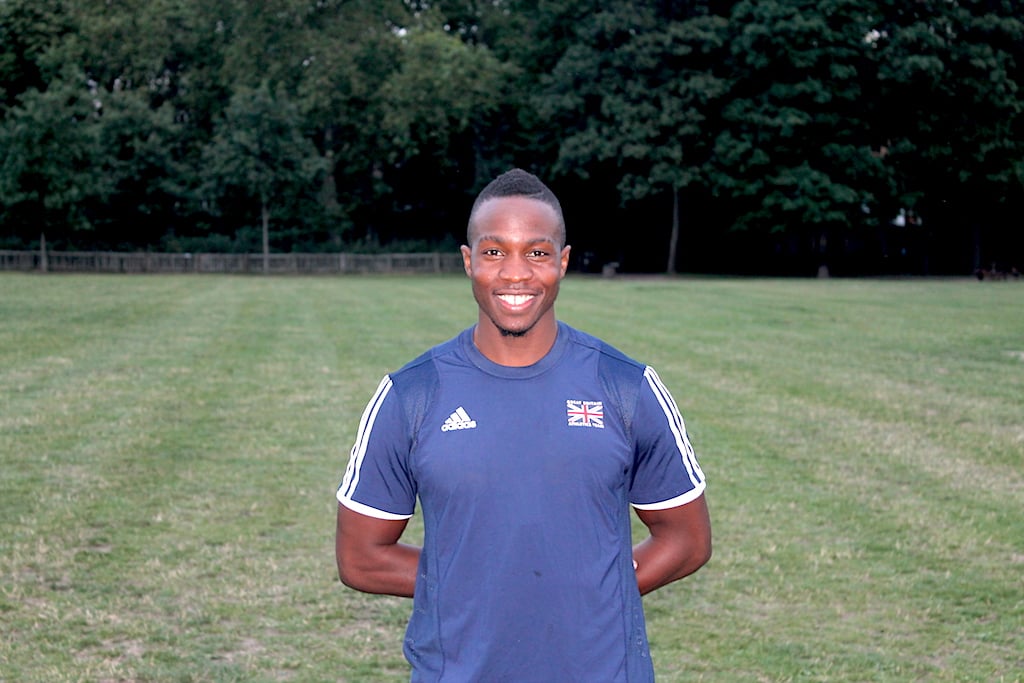 How do you stay motivated to keep to your training?
Challenge yourself! You are your greatest training partner and competitor, so use that every single day to push yourself and redefine your limits. You're your own worst enemy when it comes to motivation.

Enjoy yourself! This is so important - if you hate cardio, why are you forcing yourself to go on runs? Find something that ignites your passion and it'll be easier to face. Most things go better in sports when you're happy and not dreading it.

Trust yourself. If you've put in the hard work and you've been dedicated to excellence on a daily basis, the results are never too far away. Have faith and just keep going - the results will suddenly appear.

Ignore yourself! That voice in your own head whispering that you should stop is your own worst enemy. It may be saying it's too cold to train, you haven't had enough rest or you can't take any more pain…. Sometimes that voice is right. But most of the time you need to tell it to shut up and train anyway.

Celebrate yourself! This is so important - the law of marginal gains is real. I break down all my main goals down into mini-goals just so I can get a clear understanding of my progress. Some weeks I only improve by a rep or a centimetre… but every improvement is celebrated because it means I'm better than I was!
How do you stay focused to stay in peak fitness?
Faith plays a significant part in my life and so I always stay optimistic, even when there's no obvious reason to be.
I'm also as stubborn as they come! I've always believed that I'm capable of way more than I've done so far. So I always try to stay on track as you never know when an opportunity will present itself.
What difficulties have you overcome in your sporting career?
I started the triple jump quite late in life compared to others. This means that my technique needed a lot of attention and as it wasn't great, I got injured a lot.
I've had a stress fracture in my ankle, torn both patellar tendons, had 3 operations on my knees, split the fat pad in my right knee, broken off a small piece of my pelvis, had a stress fracture in my back, herniated a disc in my back four times…. And there's probably a few more too that I've forgotten!
I have a focus on my sporting career, and I love it! So no matter what injuries I get, I rest and heal… then get back to it. I do all the rehab and all the exercises that need to be done even when it gets boring and monotonous. I become dedicated to getting back on track. Sometimes I need to talk myself into getting back up despite the pain but I always do. The pain of no longer doing what I love would be greater than the pain of all my injuries.
How did you get involved with GB Active?
I knew the CEO of GB Active from when I used to do presentations in schools and training sessions with kids. He was starting a new project (GB Active) and asked if I'd be interested - I always love a new challenge so I jumped at the chance!
What are the benefits of training with real athletes?
In a nutshell, it shows you the difference between exercising and training. Everything we do is aimed towards a specific goal. One that never changes. And the attention to detail is very different to a normal fitness class in the gym.
Training with us means you get to experience what it's like to train at an elite level in a way that is fun and inspiring! Plus you get to learn a lot more about techniques which you wouldn't get in your average fitness class.
Tell us about some workouts members can expect at a GB Active training session:
There are so many different athletes from all kinds of sports. One day you might be doing speed work with a sprinter, the next session may be core stability with a kayaker, and the next time you might be bouncing around the park doing plyometrics with me!
The workouts are tailored to all levels of ability so it doesn't matter if you're new to exercise. We always provide an environment where our members encourage each other.
How can these workouts improve you physically and mentally?
We try to push our members in a way that keeps the workout fun, yet challenging. This means they realise they're more capable than they thought!
It shows them how tough they really are, especially when they start seeing encouraging improvements during sessions. They get a great workout and a huge boost in body and fitness confidence.
GB Active is available to MoveGB members and you can pick between bootcamps and personal training with an Olympian and GB athlete. Gain confidence, motivation, and progression from GB athletes who never give up!
They also offer a range of corporate well-being offerings. They can bring all their motivation, inspiration and fun to your workforce!
From workshops to experience days, and from fitness classes to inspirational talks, GB Active can get your workplace sweating and smiling!
Hit them up if you think your workplace could do with some team building activities with GB Active!