We know that being active is the key to a healthy and happy lifestyle… and we all know that nothing feels better than feeling strong. But are you that person that wants to exercise but can't quite seem to master the art of nailing a consistent active lifestyle?
We chat to Elinor John, full-time photography lecturer, part-time photographer, part-time blogger, and entrepreneur based in Bristol. She's a busy woman, but on a mission to make fitness STICK this time… and guess what she's found out? The key to keeping fitness in your life is finding the FUN in the activities you put yourself through.
Sounds easy right? There must be a catch? Oh yes there is… the catch is YOU. You need to find the motivation to stay on the trail of finding the fun activities that not only gets you feeling fit and strong, but makes you buzz knowing that it's coming up. We all want the BUZZ. Not the dread.
How to stick to your fitness routine: You do YOU #MyMoveGB
I'm that person. I was that person who wanted to be sporty and active, but couldn't quite integrate it into my everyday life. Life gets busy, right?
But I've been moving a lot for the first time in a while on a MoveGB membership and I'm starting to figure all this fitness stuff out. Ordinary people like you and me can become active overnight.
You don't have to wait for any secret formula, you just have to tell yourself you can.
All I'm here to do is to tell you my story, and to give you a few of my thoughts and tips. If that helps, great! But if it doesn't, it might at least resonate to give you some room for thought about giving fitness a go in the future.
Finding what works best for my body… and mind.
Like most, I'm a full-time, "I have no time to do anything" worker who is constantly on the go with a busy social life. Friends on MoveGB have talked so much about how great it is, but I wasn't ready to give it a go until I got to try it out through a trial on my mobile network provider. It was available at just the right time when I was mentally ready to give it a go.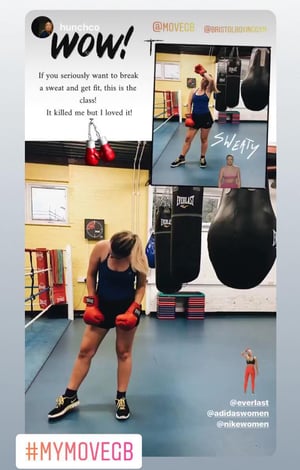 And before I knew it, I was hooked! I've quit my regular gym membership (which wasn't working for me at all) and replaced my workouts with MoveGB. I had NO idea how many enjoyable and interesting classes were available in Bristol.
Yes, I've still got that busy lifestyle, but it has made me want to find the time to attend. I used to tell myself, "This is a chore". Now, my mantra is, "I do have time for my health and wellbeing".
I've become a lover of anything that has 'retro' or 'dance' in the description. Uh hello, it says 'retro' and 'dance' - how could anyone not be intrigued by that? I've learnt that the best activities are the ones that don't feel like you're working out. I'm finding my fitness groove. Literally.
But mainly, what's got me buzzing about moving my body is the variety - I've noticed that I am more proactive when my interest is continuously stimulated. As a previous 'gym-goer', I never fully enjoyed the experience. I felt it was too repetitive and I rarely pushed myself.
The variety of classes that MoveGB offers made me fall in love with exercise again! My fitness motivation is heightened when I attend classes, more so if I keep rotating the classes or gyms that I attend. And the vast and diverse selection keeps me motivated and engaged. That's a winner-winner I would say.
How I've made a fitness routine attainable:
I've been "new to fitness" more times that I can remember. I start, I stop, I start, I stop etc. Why is this time different? Well I've learned a few things on the way. I've finally found my routine, and here's why:
Start small and build: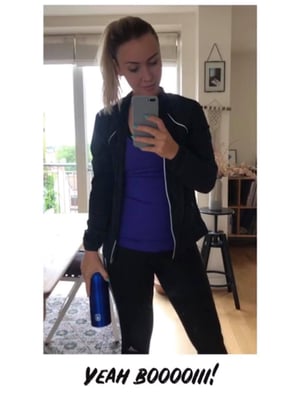 Take it from me, it is better to start small at 'beginners' classes than jump straight into 'advanced'. This whole notion of exercise being "too hard" will put you off - it did with me. And it is because I set my own bar way too high. "I want to have a Greek goddess body overnight?" Newsflash! It ain't happening!
So instead, I started at a lower level and built up my strength. It is more achievable, it'll be more enjoyable and you're more likely to keep it up. That's what happened to me. I'm on the road to that Greek goddess body, but not there yet, and that is okay. It's all about the journey.
Enjoyment is key:
If you don't enjoy it, how do you expect to motivate yourself? Not all exercise has to be "hard" though, and lo-in-behold, it can be enjoyable. Who knew? Exercise is like Cinderella's glass slipper, you just need to find the 'glass slipper' that fits. I'm a true believer that when you find an exercise that doesn't feel like exercise (because you're having fun), in-turn it will not feel "hard" or "like a chore". Try it!
By changing my mindset, I changed my mind - I started to tell myself "I can" than "I can't". That "hard" becomes easier if you believe you can. Trust me. YOU CAN!
"You're penciled in"
I set my 'exercise routine' as if a friend has invited me for lunch - "Ooo gurrrl, it's in the diary". I have committed to more classes when it's scheduled in my weekly routine.
My biggest obstacles… and how to smash through them:
We've all experienced obstacles, most of mine materialised when I was new to exercise. So here are my thoughts and how I overcame them (and still overcoming them might I add):
Time:
Who is guilty of saying, "I don't have the time"? I know I am. We all live in this busy, hectic lifestyle and time sometimes feels sparse. But from someone that used to regularly use that phrase, take it from me, you can make the time for exercise. I just didn't want to 'make time' for something that I felt was more like a chore. But it doesn't have to be! Find a class you enjoy, add it to your calendar and commit, attend, done. It really is as simple as that. No one's judging. You just do you.
Me, myself and I:
My attitude towards exercise was a huge obstacle. We could all be bodybuilders if we set our mind to it, but our inner voice gives us self-doubt and excuses. Block those thoughts out, no more bad juju! Bodybuilder city, here I come!
Going home...
Scenario: It's been a long day at work, you think to yourself, "I'll pop home, change, then I'll go to the gym". Wrong! Aka, "I'll go home, make a cheeky cuppa, sit down and my body will be glued to the sofa for the eve". GUILTY! We've all been there. The best advice I've ever given myself - take my gym clothes to work, change there, go straight to the class. Works a treat! Even if you do have to pop home first, changing before you leave work subconsciously motivates you.
Fitness vs diet:
The Goliath of all obstacles! If you want to see a physical "change", you not only need to alter your attitude towards fitness, but also your diet. "Urgh, did you say I can't have that second donut?" Whaaaat? Who made this hideous rule?
The sorrow of dieting is real, people. But why? Why can't I have both? Don't get me wrong, I'm not saying about smashing a Maccie D's every day is good for you, but you can be active and still enjoy the finer things in life... if it's in moderation.
My attitude is, if I'm active, I won't feel so guilty when I indulge. It balances one another out. More importantly, it is how I mentally feel about myself that is my priority. Any physical changes, well, that's just a bonus.
Elinor's final thoughts....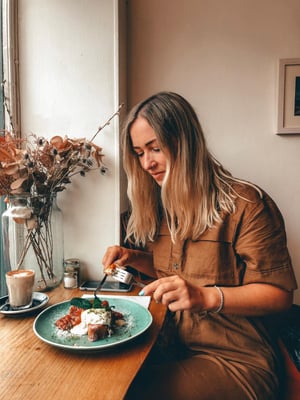 My physical and mental health is on the up! It can be hard to get that 'fitness rhythm', but once you do,
regular exercise can do wonders for these two things. It is important that we find time for our well-being.
So, Hi my name is Elinor and I'm on my journey to living a more active lifestyle… without sacrificing the fun nor my social life! I must admit, I've fallen in love with exercising again thanks to MoveGB. But you know what, MoveGB is the facilitator and the vehicle to help me reach my potential… but I am the one who had to change my attitude to fitness in order to succeed.
So, thoughts? There are no secrets here really, aye? Well, maybe one: #TeamMoveGB


Follow Elinor's fitness journey on her instagram and her Bristol adventures over on her blog!