When life gets too stressful, a great yoga session is the perfect remedy! Not only is yoga brilliant for increasing flexibility and strength using your own body weight, but it can help you find your inner peace in the busy world we live in. We all need to take a break.
Stretch it all out, reconnect with your breath and take some time to focus on yourself in your safe place: your mat. And it certainly helps if you're busting out sun salutations in some pretty cool yoga studios! London has some fantastic alternative yoga studios which you must try out. From hot yoga in a blow-up studio to yoga sessions on top of The Shard, London makes for an Om filled playground for yogis!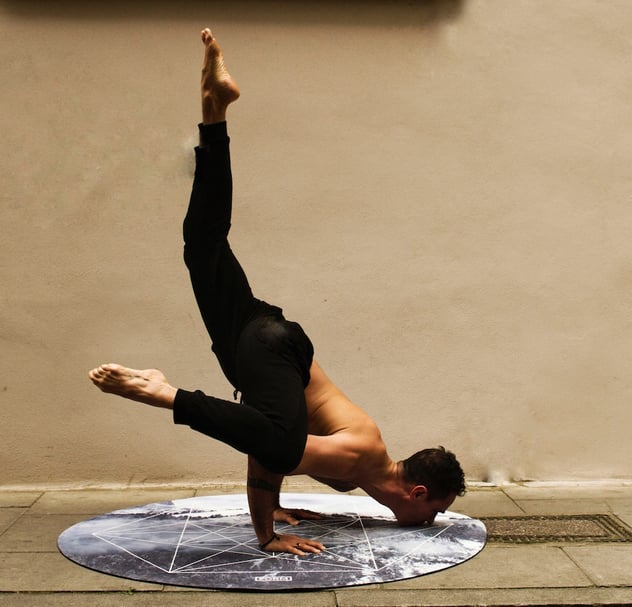 If you don't live in the big smoke but want to try out these cool yoga studios in London, be sure to book a session in for your next visit. If you have a MoveGB membership, it gives you access to studios (and 1000s of gyms and other fitness venues) across the nation. We're live in 22+ cities across the UK and your MoveGB membership gives you access - perfect if you travel a lot or like to explore new fitness venues when visiting new places! Fitness freedom at its best.
Breath in deep, roll out those shoulders and let's see where you could next be enjoying a well deserved Savasana. These studios sure are #WorthSweatingFor.
London's best alternative yoga studios
Hot Yoga: Hotpod Yoga
Hotpod yoga is hot yoga at its coolest. Enjoy Hot Vinyasa at 37℃ - an intensive and balanced workout. As the heat loosens your muscles, you'll find new positions and more lengthening… sure, you'll sweat, but it's worth it.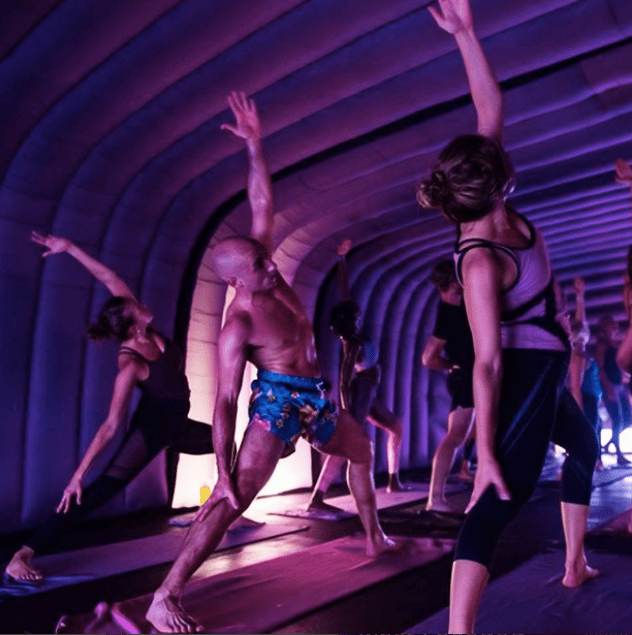 image via instagram.com/hotpodyoga

But what makes this yoga studio an alternative space is the fact that it's all within an inflatable pod! Walk into the blow-up cocoon-like space (holds up to 20 people per class) and settle down on your mat under purple lighting. It's a sensory experience with urban-chill tunes and beautiful scenting!

image via hotpodyoga.com/uk/
Active and passive classes are available and suitable for every body and mind - and all ages. Hotpod can be found across London, so try one out next time you're in the city. Don't forget your towel!
This immersive studio will blow your mind. It's a revolutionary approach to practising yoga! By combining light therapy, soundscapes and natural scents (bespoke to the studio) your yoga experience will be enhanced and create a unique experience.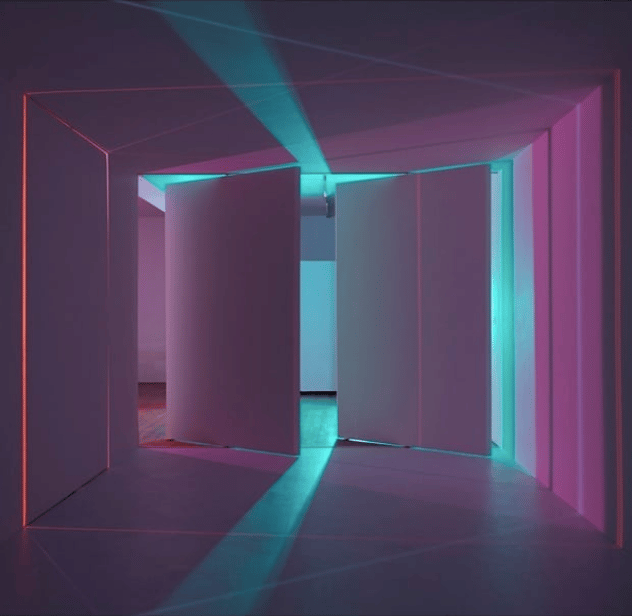 images via instagram.com/chromayogauk
Light and colour therapy techniques make this a multi-sensory yoga experience - choose which class and which colour you'd like to bathe yourself in.
Blue Yoga: Filled with blue light which can help boost your productivity and alleviate mood swings. Perfect if you find it hard to wake in the mornings or suffer from afternoon slumps.
Yellow Yoga: Yellow light is used in conjunction with movement to revitalise and increase energy! Twists and opening postures with these lights aid digestion and help alleviate mood swings. Yellow light also promotes a healthy sleep cycle, plus boosts your self-esteem and confidence.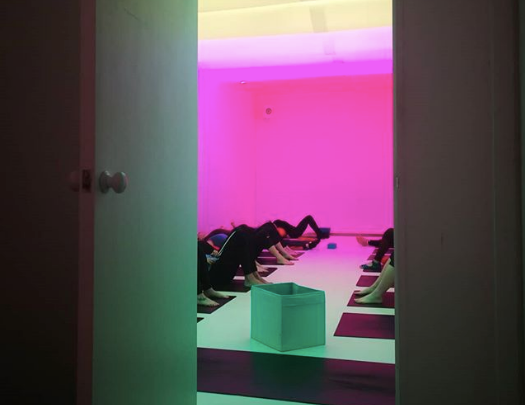 images via
instagram.com/chromayogauk

Pink Yoga: This signature class uses gentle stretching poses and breathing combined with restorative soothing tones of pink light. Be filled with affection and nurturing by breathing in the essentials oils and listening to the sound frequencies that invoke these feelings. Leave with a serene and relaxed state of mind.
Chromatic Yoga: As you move through dynamic poses, feel energised and strengthened! The light in these yoga classes moves through the spectral colours of sunrise or sunset, replicating the light our bodies base our natural circadian rhythms upon.
Yoga at high heights: Yogasphere
Sure, yoga makes you feel on top of the world… but how about actually practising on top of the world! Head up to the dizzying heights of The Shard and enjoy the highest yoga class in the world.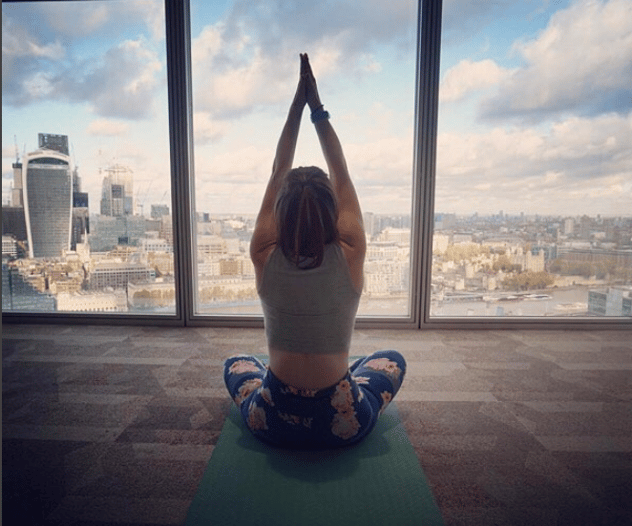 image via instagram.com/misskatebennett

At a height of 310m, be a weekend warrior and strike a pose up in The View, right at the top. It's almost twice the height of any other viewing platform in London, so soak up the 360° views in your zen state.
Afterwards, take a breather on Level 72, the open-air viewing platform, and gaze out on the concrete playground of London. In the summer, classes or meditation are sometimes run out here, really making it a unique yoga experience.
Studio Society is one hell of an alternative yoga studio in London - immersive yoga to the extreme! With 270° HD surround-screens, high-quality Bose sound systems and scents to match your workout - you'll feel a world away from London.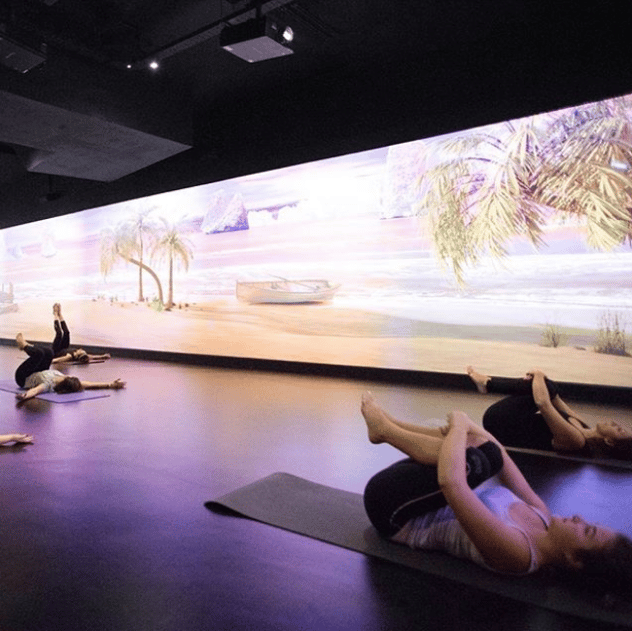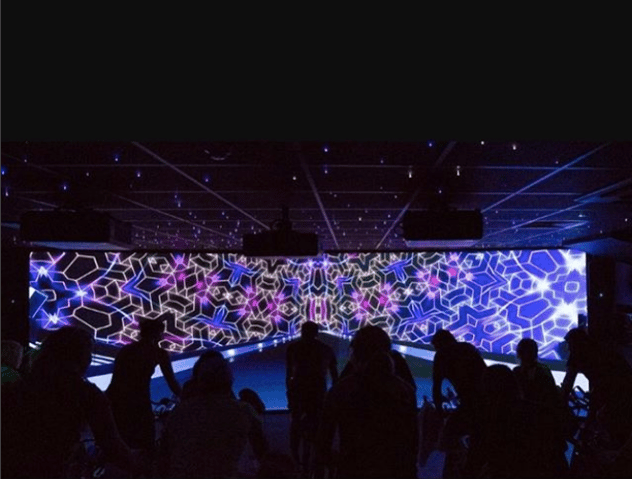 images via instagram.com/studio.society

Feel your senses activate during your workout and be transported to high mountain ranges, tropical beaches with the smell of the sea, rolling fields fragranced by freshly cut grass… who knows where you'll end up. It's a yogi's adventure!
Switch off from the bright lights and loud noises of the world - zone out from distractions and immerse yourself in a candlelight yoga flow session at MoreYoga. Focused on yoga and meditation, this atmospheric setting lit by flickering glowing candles will calm all senses, as well as your body and mind!
MoreYoga is all about quality teaching in a dedicated environment. Each instructor will focus on individual pupils to bring adjustments to enhance your practise. The warm and cosy studio makes for a lovely zen corner of London.
Lunchtime meditaion: Inhere Meditation
And if you don't quite have time to hit up some yoga sessions, why not have a short burst of meditation right in the middle of the city?
Welcome to Inhere Meditation - London's first teacher-free meditation studio. Offering 20, 30 and 40 minutes sessions, book yourself in and undergo calming breathing and mindfulness exercises. Research shows that meditating, even for a few minutes, can help us cope with stress better and think clearer… and work more efficiently. Ideal for your lunch break!
Be soothed by soundscapes, gentle lighting and relaxing seating. It's your little oasis from the heaving turmoil of London's busy streets.
Yoga really is an exciting and dynamic workout - explore the studios near you and be sure to try one of these alternative yoga studios in London when you can!