Having the ability to attend a variety of different classes using one membership means that the options are limitless. You can shake up your routine so easily to avoid that motivation killer: boredom.
But once you have chosen a new activity, it may take a bit more courage than you originally thought to actually step into the venue. It can be intimidating stepping into the unknown (we've all been there!) especially without a workout buddy by your side… But fret not - we've got your back.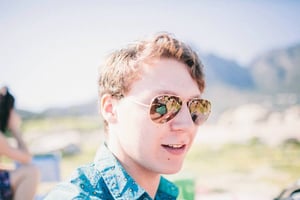 We challenged MoveGB team member, Chad, to try out a new workout class and report back. He got assigned adult gymnastics, partly for our own entertainment but also because adult gymnastics is fast becoming a new trend in the fitness world!
From handstands to tumbles, you get to try your hand at these moves and (literally) flip your world upside down. We sent Chad off to visit Baskervilles Gymnastics & Fitness Centre in Bath on his MoveGB membership for one of their afternoon adult gymnastics classes for beginners. And boy oh boy was he a beginner.
Check-out our guide on what to expect from your first adult gymnastic class - and the main question on everyone's lips is, 'Yeah, but did Chad survive?'.
What to expect from your first adult gymnastics class:
The most important thing to remember is that no one is there to judge you.
Gymnastics looks so elegant when you watch it at the Olympics. You see these artists (because, truthfully, that's what they are) soaring through the air, doing one-hundred-and-fifty flips, and landing perfectly.
But that isn't what you're going to be doing in your first Adult Gymnastics class (thank goodness).
The class starts with a brief warmup, consisting of some light stretching, squat jumps, and some basic rolls. Don't worry, there are always substitutions if you can't do anything that they ask. Remember, beginner classes are just that – no one expects you to be able to do the things Simone Biles does on a regular basis.
And as a beginner, no one is there to judge you. No one will laugh at you, or scoff when you can't do a somersault (learnt from personal experience, of course). You're all there to learn and everyone learns at their own pace. Nothing teaches you that lesson more than adult gymnastics.
Fear is your biggest enemy.
Once the warmup was complete, we moved on to some trampoline work. Watching other, more experienced, members of the class go first might make your eyes grow wide with fear and awe. But once you get on the trampoline yourself, with the help of the instructors who are there to guide you through every tuck, flip, and roll, you'll realise you're more than capable of doing all the things you were so shocked by mere moments before.
Everything in a gymnastics studio is designed so that you don't hurt yourself. From the spring floor to the foam pits, whether you bail out, mess up, or simply freeze, you're going to land safely.
Sure, you may jam your shoulder or crick your neck if you land incorrectly, but the injuries are likely to be minor. Always worth listening carefully to instructions as the coaches are there to ensure you safely nail moves to the best of your abilities.
With that in mind, it is best to remember that being afraid of hurting yourself or looking silly is going to be your biggest barrier to actually pulling off that front-flip.
Once you let go of that fear, once you realise you're safe, you're going to have the best time. And you can apply that to a lot of different workouts and sports - fear can hold you back and stop you from living your best life.
I'm so glad I tried out Adult Gymnastics on MoveGB - it is unbelievably fun and the best part of it is pushing yourself to do something you never thought you would be able to do.
You're going to sweat. A lot.
One would think that doing front flips and jumping on a trampoline in short bursts wouldn't exert that much energy. You get used to non-stop classes like HIIT and a flowing yoga practice working up a sweat... but you would be so indescribably wrong that adult gymnastics wouldn't make you sweat.
Front flips, somersaults, handstands, handstands into front rolls, all while working on perfecting your form, keeping your balance, and defeating that fear that says you can't do said handstands and front flips.
All of this takes a lot of work and by the end of the class, your body will probably be covered in a nice sheen of sweat. But the best workouts are those which allow the sweat to sneak up on you, without you checking the time to see when you can escape. Checkout some of the moves you can expect in adult gymnastics.
"I've been coming for over four months," one of the other attendees told me. "And I'm still constantly surprised by how much I sweat." It really is a full-body workout, coupled with a decent amount of cardio. Adult Gymnastics is the perfect balance for anyone who is looking to tone up, while losing weight. And don't forget the wonders it can do for your flexibility!
You don't realise how hard you've worked until after class... or the next day (DOMs, you pesky thing!).
It's more fun than you've ever imagined.
We all get stuck in our routines. We like the classes we like and it's very difficult to break from this, even when you have so much variety on MoveGB.
Whether it's going to your first gymnastics class (which I highly recommend) or something else that you've never tried before, you should definitely take that leap. You never know what hidden treasures you might find - it might turn into a passion and transform the way you workout… forever!
If you're interested in trying out adult gymnastics, you can try out this class at Baskerville's Gym in Bath.
Why not explore what else is on in your area on MoveGB?
PS: Yes, Chad did unfortunately survive.