What does attending a new fitness class have in common with scaling Mount Everest? The thought of what lies ahead can be cripplingly terrifying, but the exhilaration gained from facing your fears, conquering the pre-nerve beast and realising that you CAN do it is what makes the whole thing worth it!
As a Personal Trainer and Happiness Coach I spend much of my time encouraging others to find new and fulfilling ways of moving and building them into their weekly routines. However, I was forced to put my money where my mouth was when, in a moment of madness, I challenged myself to try one new thing every week for the whole of 2018.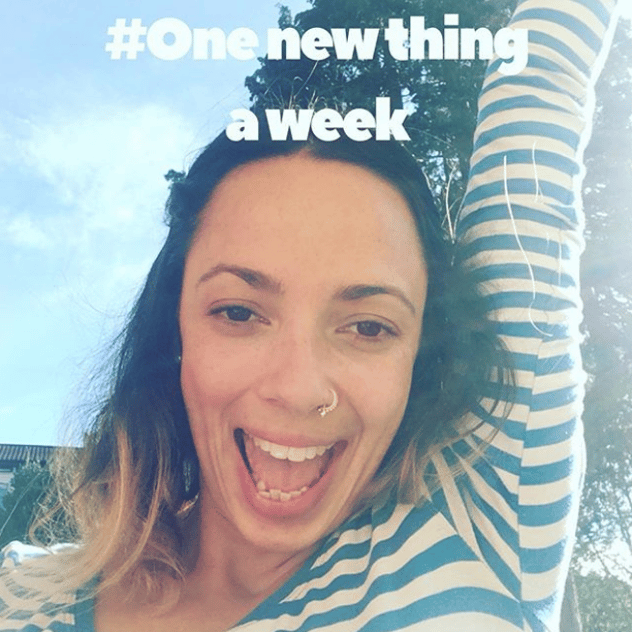 MoveGB has been instrumental in enabling me to do this since a monthly MoveGB membership gives you access to 100s of venues and fitness activities across your city. All under one monthly membership! I was able to try out a vast variety of activities to challenge myself and below are the results of my jelly-legged, nail biting, breathtaking first month of trying a new thing a week.
A Mover's guide to facing the fear of new fitness
Simple, yet high energy, choreography inspired by Beyonce and her music videos, learn to move and groove with attitude and sass! Along with sequenced choreography and technique, it will have a fitness element to it, with non-stop movement and conditioning for the whole body!
THE EXPERIENCE:
"Everyone there will be better than me."
"I won't know anyone, I'll look like a loser!"
"Maybe it's been cancelled? I should probably just go home…there's always next week".
These were just some of the thoughts racing through my head before I took the first leap of faith and went to this fresh, funky, urban dance class (words I never thought would be associated with me) that's been on my radar for months.
Dancing in a free and sassy manner to hip hop and pretending I'm the long lost 4th member of Salt-N-Pepa makes me happy. And this class ticked all those boxes.
Any class where the primary purpose of the warm-up is to get you strutting like a diva gets my vote, and although there were clearly a number of loyal regulars, I didn't once feel out of my depth.
In fact, although I attended on week 8 of this 8-week dance routine, each section was broken down into manageable chunks, so flailing novices and twerking pros alike were able to give as much (or as little) as their skill and fitness level allowed.
THE "WORTH SWEATING FOR" FACTOR:
Due to the never-a-dull-moment fast pace of the class and unpretentious vibe this activity was definitely worth sweating for.
Giving you a good workout and having a laugh with lovely like-minded individuals is what exercise should be all about.
WEEK 2: Energising Flow Yoga and Meditation (Ulle @ Wild Wolf's)
This class integrates two elements of practice: power yoga and meditation. As the power flow will prepare and strengthen the body, the meditation will leave you feeling light and calm.
THE EXPERIENCE:
Ok, so this one was pretty hardcore, but in a weirdly relaxed and Zen kind of way. The class is described as "the perfect yin and yang combination" and the premise is simple - power yoga to strengthen the body followed by meditation to strengthen the mind.
I wouldn't recommend this class for complete beginners as some of the power poses and stamina-busting holds were enough to make my eyes water. Thoughts of "Why the blazes didn't I go home to curl up on the sofa with tea and biscuits?" flitted through my mind throughout. However, I really wanted to try it as the strength/meditation combo it offers intrigued me, and it didn't disappoint.
Pushing through the pain barrier and being rewarded at the end with the most nourishing and delectable meditation left me feeling like I was walking on air.
THE "WORTH SWEATING FOR" FACTOR:
Set in a fully-equipped and beautiful yoga studio, this class was just what I needed after a long day. The instructor was friendly and knowledgeable. She was able to strike a good balance of pushing you to achieve more than you might think you're able, whilst encouraging you to treat your body with care and compassion.
Jumpfit involves wearing bouncy boots that offer resistance training throughout HIIT style workouts. The bouncy boots strengthen leg muscles and engage the core, whilst the high intensity training maximises fat-burning.
THE EXPERIENCE:
This was possibly the most fun I've had on a Tuesday evening in a room full of strangers wearing spring reinforced boots - EVER!
Part of my reason for wanting to try one new thing each week was to inspire others to do the same, and since MoveGB makes it so easy to bring a friend along, I roped in my faithful fitness buddy, Suzanne.
Despite struggling to get to grips with some of the more complicated routines (don't be put off, co-ordination isn't my strong point) and the sensational butt burn acquired whilst pulse squatting to Bootylicious, this class is what MoveGB is all about:
Letting go, moving in fun and exciting new ways with a beaming instructor and a room full of enthused people.
THE "WORTH SWEATING FOR" FACTOR:
Since taking this class I've spoken to a number of people who react with a far-off, dreamy look in their eyes and say "Ahhh, I've always wanted to try that". If this is you then my advice would be, quite simply, DO IT!
The flushed healthy glow you get is a definite indicator that you've had a good work-out. I defy anyone to go along, even after the most miserable day at work, and not leave a zinging bundle of giggles and endorphins.
Run by highly qualified Rachel Mayes, these aerial hoop classes focus on building strength, stamina and linking moves seamlessly. A combination of static and dynamic moves will be taught, plus short combinations.
THE EXPERIENCE:
Having been an avid hula hooper during my student days, I'm no stranger to the ins and outs of this circular object. Draping myself from it whilst dangling a metre or so in the air, however, had never previously been called for.
Since this class takes place at 10am on a Sunday morning there was little time on the day to feel the impending new-class nerves that I'm realising don't ever really go away ( I'm also realising they're also part of the thrill). So I went, and it was ACE! Noticing a pattern?
The instructor made me feel immediately welcome as did all the other attendees I chatted to, and the supportive environment of mutual encouragement made it feel anything but scary. Having never even dreamt of doing this sort of thing before, I was amazed that in an hour class I accomplished not only getting on and off the hoop, but a number of moves that left me giddy with pride!
Not only did this see me leaving the class feeling like a tiny legend, it also made the hour fly by with no time to feel like the shy newbie.
THE "WORTH SWEATING FOR" FACTOR:
It's fair to say that if there's such a thing as a MoveGB match made in heaven then, for me, this was it. Thanks to the supportive, highly-experienced instructor and the fact that I got one of the best core and upper body workouts I've ever had (plus feeling the closest I'll ever get to Dita Von Teese), I'd give this activity a massive double thumbs up!
THE CONCLUSION:
My first month of moving in new ways has taught me that the only way to find what tickles your fitness fancy is to be bold, follow your instincts, throw away the rule book and just give it a try.
Yes, the new class nerves are real... and yes, there will almost always be someone there who is better than you, cooler than you, or just has a nicer pair of leggings that smell like an Austrian meadow. But if nothing more, I've made the excellent realisation that the worst case scenario is you make a doughnut of yourself, leave at the end of the class, and never have to go again.
The best case scenario, however, is that you find the activity that fulfils you, inspires and motivates you to workout (aka makes you feel like you won the MoveGB fitness lottery), and meet some lovely people to boot. Keep trying things out until you find something that plasters a smile across your sweaty smile and has you booking into the next session whilst the endorphins are still zinging.
So what are you waiting for: What will you do that's worth sweating for this week?
Cat Taylor
Cat Taylor is a Personal Trainer and Happiness Coach and loves to move, laugh, eat cake and help other people find their sparkle. Cat works in the Bristol area providing fitness classes, well being workshops and 1:1 happiness coaching sessions. Specialising in empowering women to break out of their comfort zones, Cat encourages others to live happily, healthily and with more meaning! Want to know more? Then take a peek at www.nudgeyourself.co.uk and say 'Hi'.