January can be pretty tough. Not only are we lamenting the departure of the fun festive times but we're facing the first month of the year where the weather's not too fabulous and we're recovering from our decadent Christmas', in both body and wallet.
But let's wave goodbye to those January Blues and focus on the good things in life! We've got some ace feel-good workouts that will beat the January Blues and kick 'em to the curb. From upbeat workouts that will get the heart pumping along to blasting beats, to mindful movements that will reconnect your mind and body; get those endorphins exploding and reap the benefits.
We've got it all on MoveGB and it's time to explore beyond the four walls of your local gym. Think outside the box!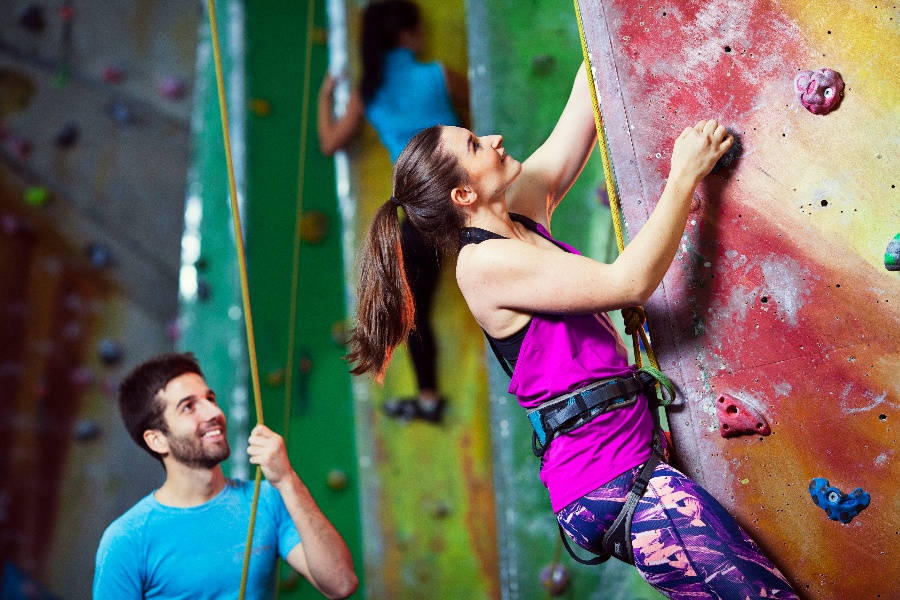 5 Feel-good workouts to beat the January Blues
1. Boxing
Boxing has been growing as a trend over the past year and it's now looking like 2019 is the year of the boxing ring! Boxing is a fantastic full-body workout that builds muscle and gives you an intense cardio session. See muscle tone, hand to eye coordination, stamina and core strength improvements!
Not only will you be getting a solid sweat on but it can work wonders on your mental health too. Frustrated? Stressed? Not only does exercise help alleviate these emotions, but being able to punch it all out on pads can really improve your mental capacity. So let's punch all our January Blues out and ramp our fitness levels up - sounds like this workout has it all.
"London Community Gym offers stress-relieving metabolism-boosting and muscle-burning boxing classes that have a 0% intimidation factor, yet 100% fun factor thanks to our community inspired boxing gym!

- London Community Gym, Southwark, London

#MoveGBLondon
2. Dance it all out
Have you tried out dancing as a workout? Turn up the music, lose yourself in the beat and shake that booty! With MoveGB, you can find nearly everything that gets your sweat pouring - try out dancing sessions this January.
Whether it's Beyonce inspired dancing, twerking workouts, disco aerobics or barre - combine music, movement and strength to bring fun to your January. POPfit is a vibrant and colourful studio in London which brings a dance-inspired angle to fitness. Turn workouts into a truly joyful practice from start to finish, no matter your body type, age or experience. Try this brand new approach to wellness - make your workout bring release to your mind and a tonic for the soul too!
"If you're going to work out do a work out that you ENJOY and that FEELS GOOD at the time not just after. We're all about the music, getting sweaty and having fun. You turn up, we bring the vibes."

- POPfit, Hackney, #MoveGBLondon
3. Yin Yoga
Is the first month of the year pretty intense at the office? Are you struggling to adjust back to your working hours? And is it straining your body to be stuck at a desk once again? Taking time to relax and unwind from the mind and body stresses of January is key.
Yin Yoga and other nurturing, restorative yoga flows can help you reconnect. This delicious practise will give you time to just be still and take note of what condition your body and mind are in. Regulate your body's energy flow, increase circulation and flexibility, and celebrate what your body can do.
Yin yoga will have you holding poses for extended periods allowing deep connective tissues to stretch - keep patient and immerse yourself in this form of meditation. Find comfort and observe your state of being.
"Join us for a Nurturing Flow in the pod. Leave dark nights for purple lights, move from chattering teeth to melting muscles, and swap busy streets for chilled out beats. Escape the January madness and post-Christmas blues and step into the pod. The pod offers an otherworldly cocoon of glowing lights, heady aromas and enveloping soundscapes, taking you a million miles from the everyday.
Our Nurturing Flow is a deeper, slower, restorative class. A calmer tempo and strong focus on passive and meditative postures, combined with the signature Hotpod heat of 37 degrees, will melt you further into your practice, leaving your body gently worked and your mind relaxed and calm."

- Hotpod Yoga, #MoveGBBristol
4. Shoop Shoop Shoop the blues away
Do traditional workouts cause you to yawn? Need something a bit more unique to get out of your January funk? Well, grab your hoop and get shooping with a hula hoop workout!
PlayTone provides hula hooping classes that get your abs harder than diamonds. This fun cardio workout spins you into shape - tone and condition your core muscles to carnival and disco tunes! Learn tricks or just focus on core strength… but no matter what your focus is, you will end up dancing.
Try this wondrous workout class if you're in London, or grab a hoop and begin training at home. Crank that music up and ignore the deep freeze outside!
"Release your inner child and be wild!"

- PlayTone, Southwark #MoveGBLondon
5. Workout with mates and rediscover your competitive streak!
Remember those days when you were young and carefree, running amok on the playground and never feeling tired? Yes, we barely remember those days too but if you were a massive fan of playground games when you were young, then check-out Rabble.
Designed to trick your body into working out without realising it, Rabble have transformed HIIT workouts into immersive adrenaline fuelled games. Think British Bulldog, Dodgeball and Frisbee - it's great for those who hate conventional exercise! Grab a bunch of mates and get stuck in. Not only will you be getting active, but you'll be interacting socially which we all know is the secret to a happy, healthy life.
Taking inspiration from playground games, we've incorporated endurance, speed and High Intensity Interval Training into the rules. You'll find yourself having so much fun you don't realise you're working out.

- Rabble, #MoveGBBristol
Whatever the vibe you're feeling this January, blast away any blues with colourful, sweaty and fun workouts which will revitalise your body and brain! Sweep those dreary cobwebs away and let's smash the beginning of 2019 together.