Training for a sporting event? Or smashing your summer by keeping on your fitness path? Whatever you're training for and for whatever reason, correct nutrition to fuel your body is paramount to keeping you energised and allowing your body to recover efficiently post-workout.
Getting the balance right when it comes to sports nutrition is so important and key to helping you achieve your goals!
We've teamed up with the experts at the College of Naturopathic Medicine (CNM) to get some brilliant health tips to help you on your health and fitness journey. Declan Murphy, Nutritional Therapist and lecturer at CNM, and Bernadette Keogh, CNM graduate, delve into what to eat on the day of a workout or sporting event, what to drink during it, and what can aid recovery once you're done sweating!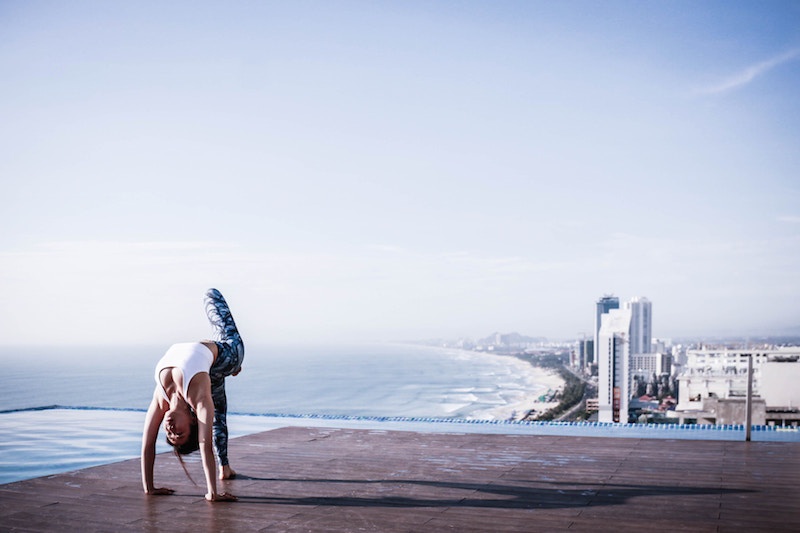 How to fuel your body before, during and after your workouts
What to eat before your big workout:
As well as balancing calorie intake with calorie expenditure, you must consider the importance of balancing carbohydrate, fat and protein intake. The timing of meals is also vital to benefit performance and recovery. The purpose of nutrition, and especially sports nutrition, is to ensure that you are fuelled to perform.
It's important to be aware of the rating of the glycaemic index (GI) of your carbohydrates - depending on the levels, it will affect your blood sugar (glucose). A common misconception amongst amateur athletes is that consuming high GI foods (i.e. sugary food and drink) prior to an event or during an interval will provide extra energy. You may get a fleeting sugar high, but it is not the best decision for peak performance.
For breakfast, focus on moderate GI (Glycemic Index) foods that are easy to digest and offer sustained energy release - porridge oats with berries, raisins and a splash of almond milk is a good combination – and allow at least two hours for digestion.
Limit high fat and protein foods such as dairy or nut butter, as these take longer to digest and may lead to cramping during high intensity activity.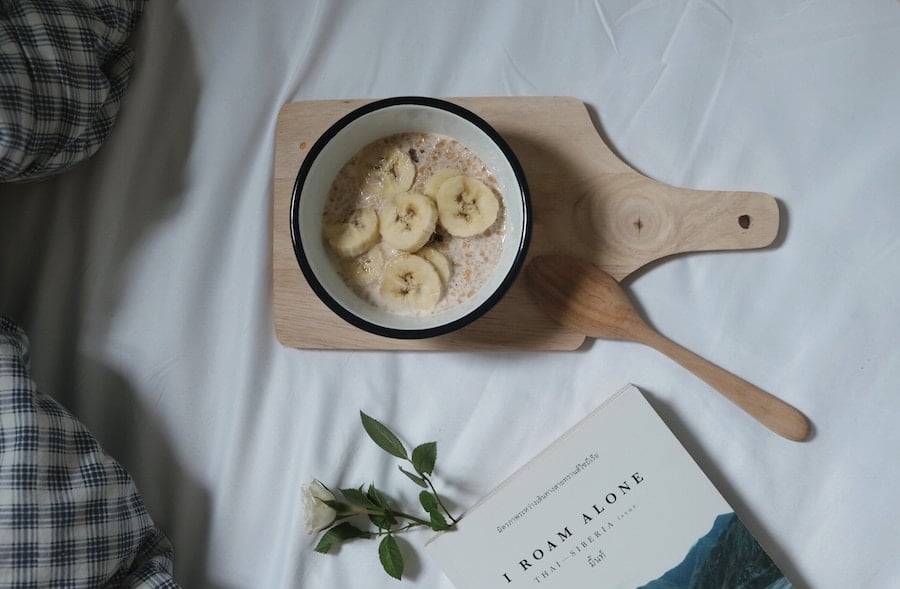 Avoid high GI foods so you don't have an energy crash midway through your performance. Stay hydrated by having a natural sports drink and water with you. Post-session meals are most important to promote recovery: eat a balanced meal incorporating complex carbohydrates, organic protein, plenty of vegetables and some good fats within two hours after the event.
Check out some ace post-workout meals to refuel your body.
How to keep hydrated during your workout: Sports Drinks
Be careful about which sports drinks you pick up at your local shop or in your gym's vending machines as many are high in sugar.
Sugar may lead to dehydration as water is used in the body to absorb sugar into cells. Sugar may also trigger an insulin response, leading to a drop in blood sugar levels, which can cause dehydration, fatigue, and nausea.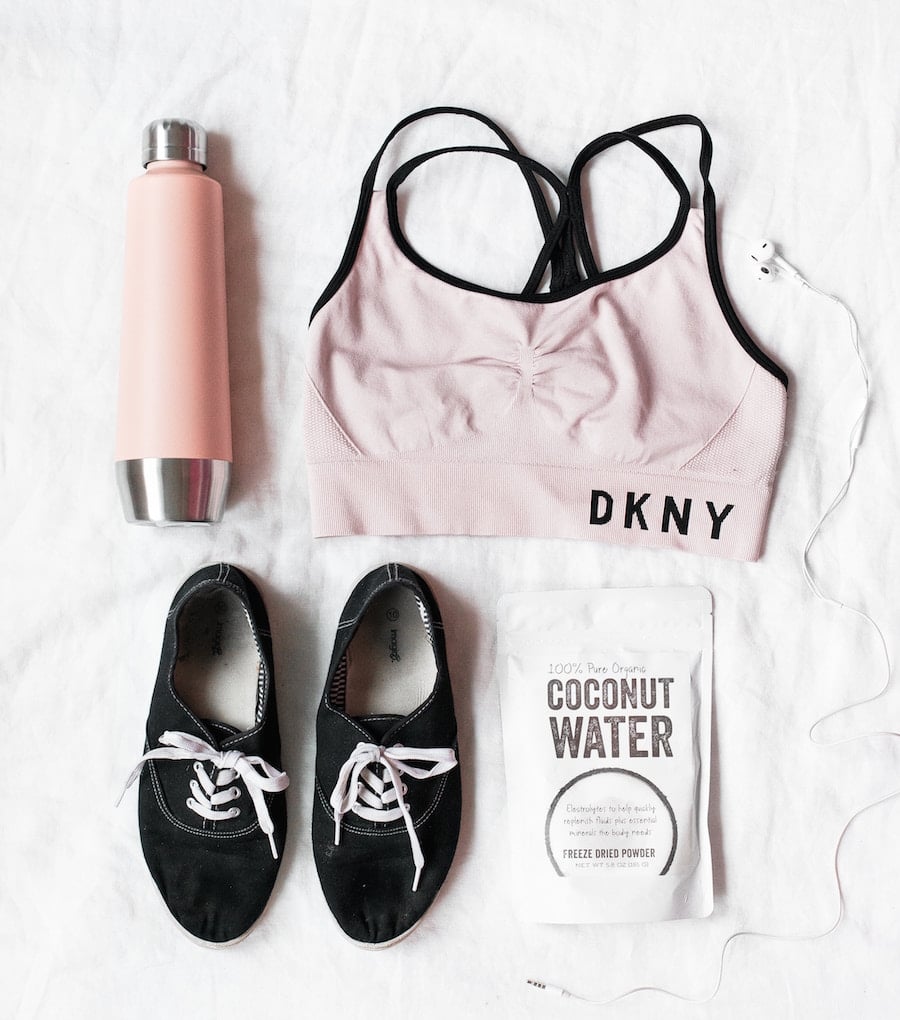 Recommended glucose intake during exercise is 30-60g per hour and 500ml -1 litre of fluids per hour, and natural sports drinks are useful for dehydration as well as extra fuel for workouts lasting more than one hour. Why not make your own natural sports drink - be in control of what goes into them and save some money!
DIY Natural Sports Drink:
1. Use either 500ml of filtered water, chilled rooibos tea (high in antioxidants which reduce potentially harmful free radicals produced during exercise) or coconut water (high in mineral-providing electrolytes).

2. For each 500ml bottle use 30g of carbohydrate, such as three tablespoons of pure maple syrup, which will provide 30g of unprocessed natural sugars.

3. Add a pinch of salt to replace electrolytes lost through sweat

4. Add a squeeze of fresh lemon or lime juice for taste. Alternatively mix 250ml of organic apple juice with 250ml water for a complete sports drink.
Post-workout: What protein powders should you go for?
Protein powder is particularly beneficial in aiding recovery post-workout as part of a balanced diet. If you are opting for whey protein (meaning that it's from dairy), you can choose from whey isolate or concentrate, and look for organic and grass-fed sources.
You absorb around 80% of the protein in whey concentrate compared to 95% in whey isolate because whey concentrate also contains small amounts of fat, cholesterol and lactose, which has been found to support immunity. Is whey isolate worth the extra cost? Probably not, but if you do have an intolerance or allergy to lactose, isolate is the better option.
There are also great dairy-free protein powders on the market, such as hemp, rice or pea powders – always choose organic and soy-free products. Avoid protein powders with artificial sweeteners and instead opt for plain flavours that you can then add berries or bananas yourself.
Nutrition and exercise go hand in hand - be sure to seek out the best advice and fill your body with healthy goodness to aid your fitness journey! If you're fascinated by the impact of Nutrition on health, you can find out more about training with CNM for a career in Nutritional Therapy, by attending a free Open Evening - book here!
For more details call 01342 410 505, email: info@naturopathy-uk.com or head over to the College of Naturopathic Medicine.