Sometimes, the gym can lose its appeal. Sometimes the same bootcamp or workout class you go to every week loses its sparkle… it's nothing personal. We all need to shake things up to keep motivated!
We all know that variety is the spice of life, so that's why we created MoveGB: a membership which opens you up to 1000's of different activities so you never get bored! Boredom is a killer for workout motivation, so we make sure we have a wild variety of activities available to keep you curiously active.
Have you heard of FloatFit? If you're bored of your workouts, need to shake things up and want to get some water-based workouts in for the summer, then take to the water with FloatFit!
So… what is FloatFit?
Created by AquaPhysical, FloatFit is a group exercise class ON WATER using the world's first inflatable floating exercise mat: the AquaBase. This strange new piece of workout equipment is designed to stay static on water (unlike a paddle board that travels through water).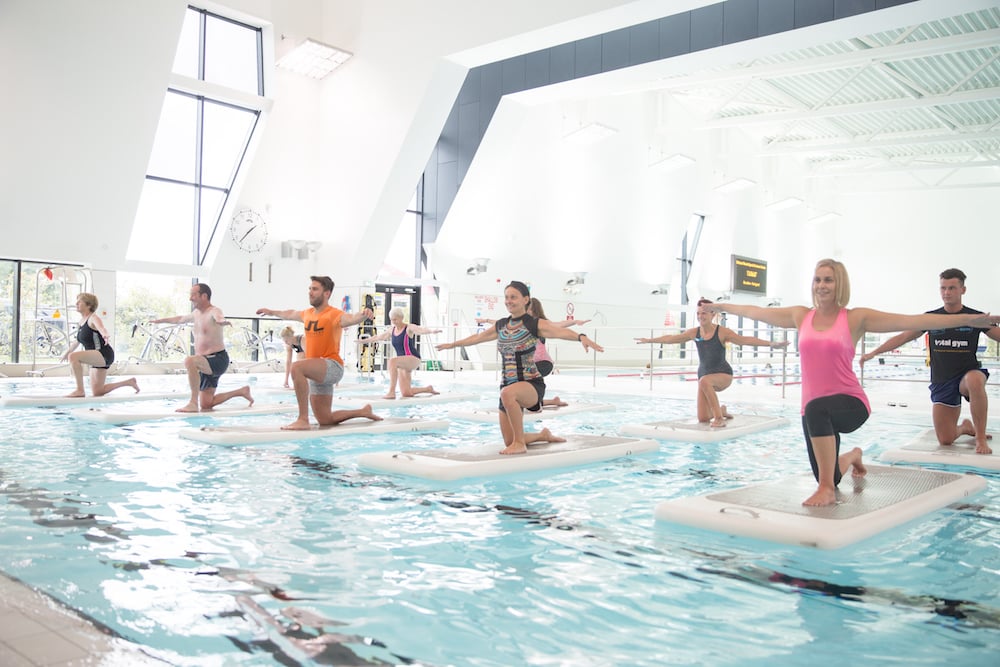 The fabric ensures that when inflated to the optimum pressure, it can hold a weight of up to 100kg, creating a hard flat surface most effective for the unstable conditions of working out on water. This will ensure you get the best workout you can!
A variety of programmes have been developed to take exercises that you usually do on land, to an unstable platform in a swimming pool. Your core is being continually worked to help you stay balanced - it's challenging but it makes for a great workout! And with FloatFit being a worldwide sensation with winning many awards, attracting celebrities worldwide and getting 100's of instructors trained, we're pretty sure FloatFit is a hit!
What are the different types of FloatFit Programmes?
There are currently 3 FloatFit programmes:
FloatFit HIIT
FloatFit BALANCE
FloatFit GROW
FloatFit HIIT incorporates traditional HIIT-style exercises including Squats, Burpees, Sit Ups and Mountain Climbers. The focus is on timing – performing short bursts of exercises at a high intensity for a short time followed by a rest or active rest. You can perform as many reps as you are comfortable with within the given time e.g. 30 seconds.
FloatFit BALANCE is inspired by yoga and pilates. Flows focus on breath and movement, encouraging participants to concentrate on holding poses correcting and increase intensity based on personal fitness levels.
FloatFit GROW is an action-packed class designed to motivate children to stay active and maintain a happy, healthy lifestyle.
Later this year they will be launching their fourth programme, FloatFit MOVE – low impact fun to build fitness fast.
What should we expect from our first FloatFit session?
Expect to get wet! Forget all inhibitions, throw yourself into it and challenge yourself! Don't worry about falling off the AquaBase during your FloatFit workout. Just go for it and reap the most benefits – even if it does end with a splash!
FloatFit Classes are 30 minutes long - short n' sweet! During your session, you'll gain a full-body workout. And due to the humid swimming pool environment, falling off the AquaBase into the water is a refreshing break! All classes start with a familiarise and balance section to help you 'find your feet' and get used to being on the AquaBase.
FloatFit Classes are designed to provide different levels of difficulty to suit your personal level of fitness. For example, in a FloatFit HIIT Class, a Squat can be performed in its simplest form as a wide shallow Squat or you could test yourself with a deep 180 degree Squat Jump. In a FloatFit BALANCE Class, Downward Dog can be performed with your leg lifted only slightly or you could lift your leg higher and close your eyes.
If you return to FloatFit Classes week after week you will be amazed at your progress. Set yourself a challenge or take a less intense workout – it's up to you!
What benefits will FloatFit bring to my body?
There are so many benefits of doing FloatFit – from balance and coordination to increased levels of fitness, flexibility and strength. It's also amazing for your posture with having to work the core to maintain your centre of gravity during the sessions.
Most people don't feel the effects of the class until the next day. But be safe in the knowledge that it's a great workout; a HIIt class can burn up to 360 calories in the 30-minute session. Yeow!
Not only are the benefits physical, but there's mental benefits too. Concentrating your mind to balance on the AquaBase, alongside people falling off next to you works wonders for your mental wellbeing. FloatFit is also a great opportunity to make new friends, workout with buddies and build water confidence.
What should I wear to my first FloatFit class?
Wear gym clothes that can be immersed in water without damage… and bring a change of clothes or the bus home after class might be a bit awkward.
Many swim/fitness brands have begun bringing out apparel designed to get wet - check-out Speedo, Seafolly Australia, Roxy and Adidas for some quick-drying stylish
I can't swim - is that an issue for FloatFit?
Yes - you need to be able to swim in order to participate! As long as you can do the following, then you're good to get involved:
Swim 25 metres/yards
Tread water for 45 seconds
Do a forward roll in the water
Be comfortable in deep water
Where on earth did FloatFit come from?
In 2014, Leila Francis Coleman and Tom Whelan were living and working in London at the time the FloatFit idea was formulated. With backgrounds in the fitness industry and management consultancy, they went home to Dorset and noticed someone doing SUP yoga… this sparked the idea of floating boards designed to be static for group fitness.
With a V-shape design and fin, SUPs are designed to travel through water. They soon realised that exercising on a platform that unstable could be dangerous and started to think about what a more stable platform designed to stay static in the water to ensure safe exercise use would look like.
As an experienced sailor Leila has a great appreciation and broad knowledge of the 'unpredictability' of water and saw the many benefits of using water as an extra dimension for exercise. As a fitness professional, Tom, appreciates the benefits of group exercise and knows how narrow the demographic is that regularly uses the 3,000 pools in the UK. The idea quickly became their obsession.
In May 2016 they posted a video of a FloatFit HIIT Class at Dolphin Square Fitness Club in London on Facebook. A week later over 37 million people had viewed it - it had gone viral and the people wanted it! With no experience and no backing, they committed to creating a now global brand that has disrupted the fitness industry.
Sounds ace! Where can I try out FloatFit on MoveGB?
We have a few locations across the UK where you can try out FloatFit with a MoveGB membership - don't forget, you can use your membership in any MoveGB city or town!

Anything else?
If you get a snap of you on the AquaBase before or after class, don't forget to tag @MoveGB, @aquaphysical and #FloatFit - spread the word of this awesome new water-based activity! It's taking the industry by storm and we're certainly signing up for the next session.
Get social with FloatFit:
Catch you in pool!