As another year draws to a close, we've been fondly looking back over 2019 and we've seen some pretty interesting workouts going on across the UK!
What started in Bristol with limited funds and 100 fitness businesses, today offers over 6,000 venues/instructors across 28 cities around the UK, with over 1000 fitness activities in Bristol alone. The active communities in every city are totally unique and continue to inspire us all. The vast variety of workouts that our instructors, studios and leisure centres offer ensure that there really is something for everyone. No matter what your fitness flavour is.
With over 605k workouts with us over the past 12 months, we've got great insight into what workouts people love in which cities, plus some fitness trend predictions for the new year.
Perhaps this will inspire you to try something new? Will you get on board the trends for 2020?
MoveGB: 2019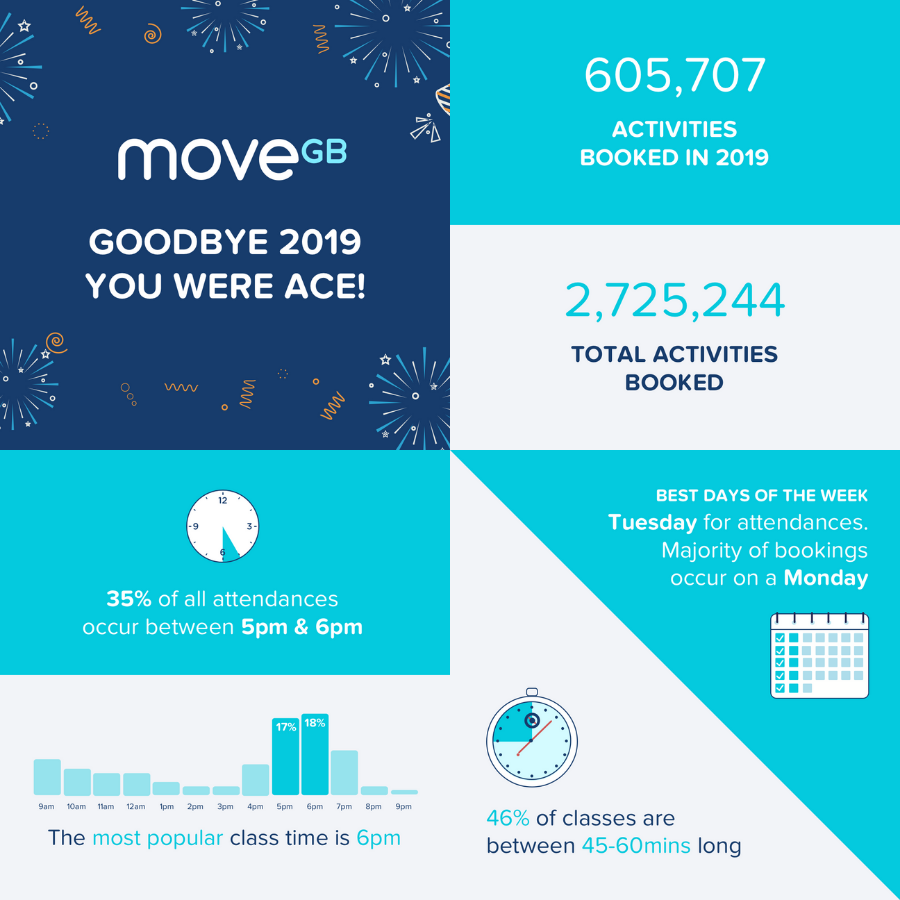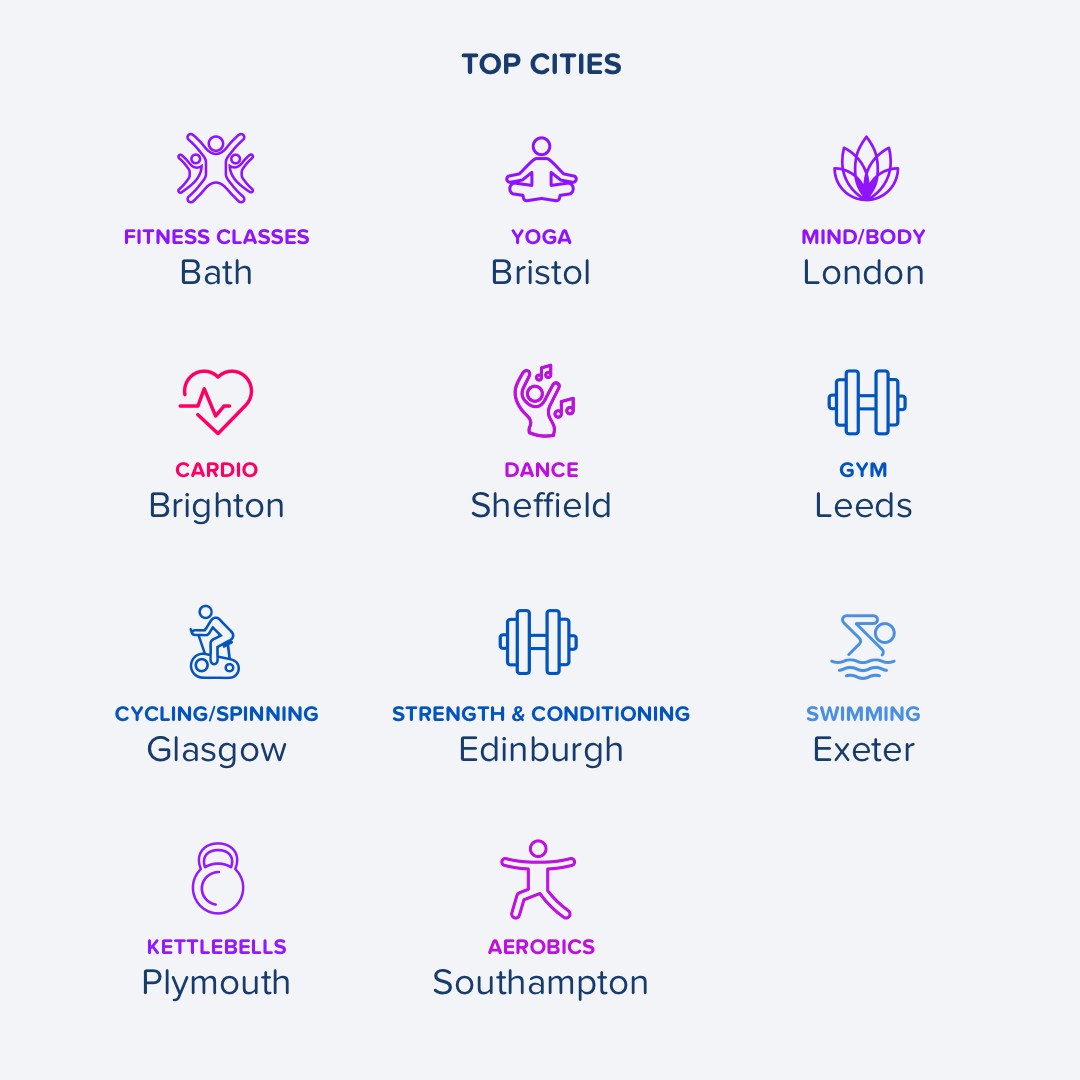 MoveGB's Fitness Trends for 2020
The enthusiasm for more diverse, experience-led classes has meant there's been an increase in more niche and unusual fitness classes, including acro yoga, circus-inspired aerial hoop, twerking and adult gymnastics.
We've recognised that people stay engaged for much longer than the industry norm if they have variety in their routine and by adding some fun into their active lifestyles. This doesn't mean members should chuck in their gym memberships and spend every week jumping from studio to studio; it means they should focus on topping up their normal sessions with experience-rich fitness activities or attending multiple classes that complement each other, in order to commit to a fitter lifestyle.
For 2020, we're predicting that the trend for more experience-based, unusual activities will continue and MoveGB will be supporting these areas of growth to encourage our members to maintain a varied routine.
Specific trends to look out for include:
Go hard, then go home:
An increase in quick cardio sessions that will challenge fitness levels for 30 minutes max and can easily fit around busy schedules. From micro HIIT sessions, to Ride 30 spin classes and 24 minute rowing classes.
Exercise while making a difference:
Giving back to your local community or making a difference to your home town or city while exercising is another growing trend. Think GoodGym in London where you run to a location to do community charity work before running back to the start line.
The art of play: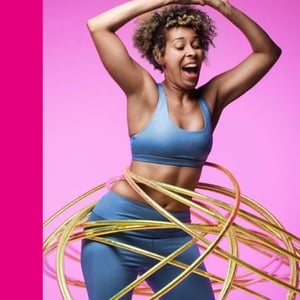 The need for fun and an opportunity to socialise while working out will see an increase in 'fun fitness' classes. Examples include Rabble, which transforms traditional HIIT workouts into adrenaline fuelled games, such as British Bulldog and Capture the Flag.
Plus London-based PlayTone (teaches you to rollerskate), who in 2020 will launch the UK's first disco travelling playground.
Walking:
As we've seen with the rise in people hiking over the last few years, walking is quickly becoming a fun, social, low impact way to increase fitness levels for millennials. Activities like Nordic walking are growing in London and Bristol, providing a full body workout while reaping the wider health and wellbeing benefits of outdoor fitness.
Dance:
Dance will continue to see a huge surge as an alternative way for members to get their cardio fix. As well as providing a high-impact cardio workout, attendees are working their minds to remember routines and get to grips with new moves. Dance will see continued diversification to suit all styles and abilities with a growth in specialist dance classes such as barre mash-ups, Reggaeton, belly dancing, twerking and silent disco bootcamps.
Sports-based workouts:
Combining fitness and mental stimulation is a growing trend and sports-based workouts take it one step further as they offer the chance to turn fitness regimes into lifelong habits. In 2020, expect to see further growth in this trend with more classes specialising in skateboarding, surfing, roller skating, kayaking and stand-up paddle-boarding.
Have we given you some inspiration for your fitness in the New Year? Be sure to snap any activities you get up to and tag us on Instagram with @MoveGB and #MoveForLife.