The 19th Century Philosopher Henry Thoreau said "Happiness is like a butterfly; the more you chase it, the more it will elude you, but if you turn your attention to other things, it will come and sit softly on your shoulder".
What better quote to highlight the importance of following your instincts and just moving for Mental Health Awareness Week? And, although we all experience stress in different ways, research continually shows that regular physical activity can help reduce and even prevent some of its harmful effects.
We chat to MoveGB member, MoveGB instructor and registered Occupational Therapist, Cat Taylor, about her experience with various workouts at different points of the day. Can workouts help rejuvenate your mind and fill your body with energy to take on the rest of your day? Can you use fitness as a way to practice mindfulness? Despite the sweat, can you find focus, switch off your ticking brain?
Interested in trying out some workouts to help alleviate stress and in need of some fitness variety? Then consider the below your very own guide to some of the most mood-elevating workouts in Bristol at times of day to suit everybody and every body. And if you're not in or near Bristol, then consider this a taster demonstration of what's out there. Get searching and see what activities you could unearth.
Top workouts to minimise stress (and send your energy through the roof!)
Morning:
If getting out of bed in the morning leaves you feeling jangled with anticipation for the day ahead, then why not distract yourself and generate some early morning endorphins with a pre-work workout.
Feeling good whilst working out is as much about the instructor as the exercise and this is no more apparent than with Elena. Not your average yoga class, through an achievable yet challenging flow of poses Elena delivers all the instructions with warmth, humour and a mischievous sense of fun.
With yoga's known benefits for physical and mental wellbeing, you'll leave feeling re-charged, invigorated and like part of the Wild Wolf's family.
Not two words you'd often put together, but Alice's Mindful HIIT class prides itself on empowering the body while quieting the mind.
Through a 35 minute blast of high intensity intervals you'll be continually encouraged to return to your breath, listen to your body and work intuitively within your own limits, free from the urge to compare yourself against anyone else's standards. Prepare to get sweaty and leave feeling in control and ready to take on the day.
Lunchtime:
Looking for a way to super power your lunch hour? Then why not go all out and spend a breath-taking 45 minutes shakin' that ass in this Afro-Caribbean workout?
I swear, if dancing like no-one's watching was a sport I'd be a gold medallist and this class kicks you so far out of your humdrum, day-to-day mindset I can't think of a more mindful way to spend your lunch break.
Even in the depths of winter, you're guaranteed to return to your desk feeling like you've just taken part in an encapsulated St Paul's carnival – beats trawling through emails while munching on carrot sticks and hummus any day!
Find out more about how to become a lunchtime workout warrior.
Evening:
If you suffer from an early evening slump, with work zapping your energy levels and lust for life, then this class will pep you up a treat. Open to anyone, it uses the basics of ballet, Pilates and yoga to train the body to stretch, move and hold itself with poise and control.
Delivered with Angie's signature style of buzzing enthusiasm and the ability to enable you to laugh, even when you get the moves wrong, you'll probably have such a blast that you'll have forgotten all about all your little daily worries by the end of it.
If you want to reap the benefits of socialising whilst getting physical, then you should definitely give Rabble a try. And if you're struck by the same gripping fear I was at the thought of an adults games lesson, fear not.
The focus here is really on just moving your body any which way that works for you. Free from any judgement or pressure that there's a "right" way to do it, the big focus in Rabble is to get stuck in, break the rules (well, I did anyway) and have fun!
When it comes to good mental health the most important thing to remember is to take an individual approach and, free from internal judgement, engage in the activities that make you shine. So this Mental Health Awareness Week why not delve into the fitness around you in your city, make like a butterfly and just move!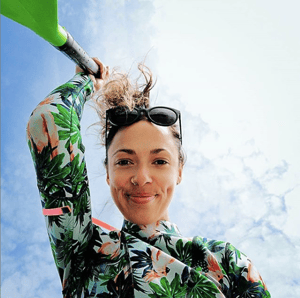 Cat Taylor is a registered Occupational Therapist and qualified Personal trainer with specialisms in Positive Psychology, Sensory Integration and Brief Solution Focused Therapy. Cat began her career in the NHS, working in inpatient acute psychiatry and community mental health crisis.
She now runs her own business focussed on fitness and wellbeing, providing consultancy, personal training and fitness classes all with a mental health twist.
Give her a follow on instagram: @cattaylor_nudge