As the warm weather descends on us and we get a decent whiff of summer, your motivation may be flagging with keeping to your fitness routines. When those suntrap pub gardens beckon and those BBQ's get fired up, it's easy to forsake your usual fitness class in favour of some alfresco fun!
But remember, summer is chockablock with FUN so you need to keep your energy levels high to keep up with it. The warm months may whip by, but don't let your motivation slip away too. Stay in peak performance and be active all summer long - we've got some top tips on how to get motivated to stay active, no matter how blue the skies are!
5 Ways to get motivated to stay active this summer
1. Shake up your routine
Need to keep inspired and excited about your next workout? Then we know how to shake it up. You may be flagging with your usual routine, but you're not alone. Out of 4 million people who joined gyms in the new year (remember those resolutions?), 60% will throw in the towel by May. Can you guess why?
Here at Move, we can see how our active members behave - those who attend 3-4 different venues or activities stick with their memberships 4 times longer than those who only attend one fitness venue.
The proof is in the pudding - mix up your workouts, keep your body on its toes, try new things every week, and discover the next fitness activity that makes you excited to get moving!
Find out more about how to stay active for longer - don't do boring!
2. Remember that being active can make you live longer!
With studies left, right and centre telling us that inactivity is a bigger killer than smoking, that's sure to light a fire under your behind to get you to the gym! Stats suggest that those who spend 7+ hours sat at a desk are 60% more likely to die prematurely - inactivity is now the fourth biggest killer of the modern world, so you need to move more to combat your sedentary desk jobs.
A study by Lancet has suggested that we must all be active for at least an hour a day in order to stay healthy… and you'll certainly feel the benefits. Get rid of that sluggish feeling, avoid pain and discomfort from sitting all day, and get that blood pumping. Your heart, brain and emotional state will thank you!
Find out more about how you can stay active during your working days.
3. Move more to get more fun in!
As we mentioned, BBQ's and pub gardens are a staple in the summertime. But all that consuming can leave you feeling a bit lethargic, sluggish and generally a bit wiped out come Monday morning. Studies have found that repeated cycles of eating healthily in the week and then binging on junk every weekend can be very damaging to your gut health, which can impact your metabolism, nutrition and immune function.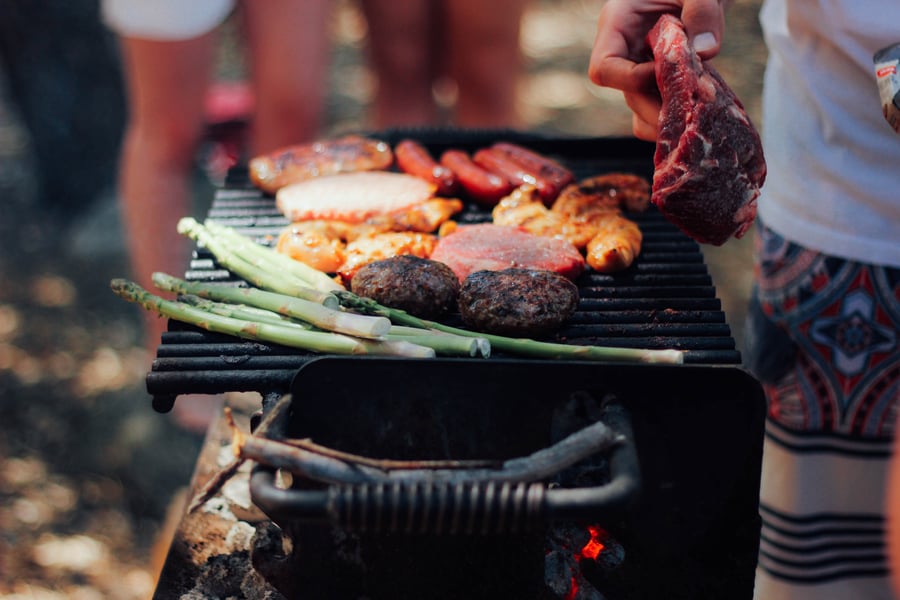 We all need treats every now and then - life would be pretty abysmal without them! But it's all about that pesky thing called balance. And we all know that a weekend of decadence can make you take two steps backwards in reaching your goals.
So don't go too nuts every single weekend and be sure to (roughly) keep to your fitness routine to reclaim your energy! Keep moving and hit up all your favourite activities, then enjoy your little bits of sin with a guilt-free conscious.
Read more about how much damage you can do at the weekend.
4. Try the 7-minute rule... or rope in your mates
If you're struggling to get your butt to your workout alone, then we've got some hacks to get you motivated. If you're working out solo, try the 7-minute rule. Tell yourself that all you need to do is get into your workout clothes and workout for 7-minutes. If after 7-minutes you're really not feeling it, then leave. You can't force your mindset if it's just not in the right mode!
However, this is a bit of a trick on yourself as after 7-minutes, you'll quickly discover it's not so bad and you might as well continue since you're there. Turning up is half the effort!
But if you know that the 7-minute rule is just not enough to get you out the door, then rope in your mates. Group workouts are a sure fire way to keep you motivated. It's fun, you get to hang with your mates and you have your own workout cheerleaders with you!
Find out more about social fitness and the 7-minute rule.
5. Alter your workouts to suit the weather
Let's face it, when summer hits in the UK you have to make the most of it ASAP. So whilst we are telling you how to keep motivated and stay active, you have to make the most of the sun when it finally peeks out. We all know it won't last long!
But one way to ensure you get to be active when the sun is shining is by combining the two:
Join a bootcamp that is in the great outdoors

Hold your own

silent disco workout

in the garden

Grab your mates and do circuit training or a quick HIIT sesh in the park

Try some water sports! Stand-up paddle boarding anyone?
And lastly, if all these other tips fail you, remember how far you've come. Remember how much stronger you've become and remember how good you feel after getting active - hold onto that feeling to get you to your next workout. Nothing quite beats the endorphins and the feeling of a strong body!
Hopefully we've got some useful tricks and tips to help you keep motivated all through the summer. Get ready, the sun is due any second…