As the days become shorter and the nights become longer and we are told to stay at home, it makes you want to layer up, wrap up and become cosy and snug.
Instead of retreating and hiding it can also be a time of slowing down, reflecting and maybe peeling back the layers to observe ourselves. Like finding areas of the body that might be feeling a little unloved - like our feet.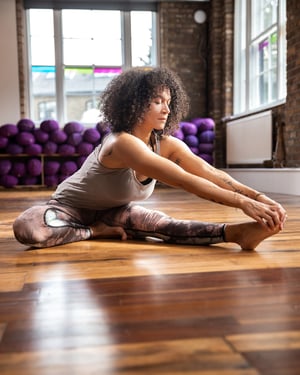 We chat to London's leading destination for yoga and Pilates, triyoga, who has now joined the MoveGB network. They have (literally) 100s of live streaming yoga and Pilates classes - there's something for everyone no matter what level you're at or what energy levels you have.
Be sure to take moments during these colder, dark months to stay centred and connected with your headspace. As part of our Mindful Hibernation series, we talk with triyoga teacher, Vicky Fox, who takes us through a session to take care of your feet - the body part that gets taken for granted to most.
When was the last time you showed your feet some love?
Fabulous Feet, with triyoga
Our feet support the weight of the body as we move around and they keep us connected and grounded to the earth. They run us around and, unless there is a problem with them, they largely get ignored. Maybe they spent the summer with the toes scrunching up in flip flops and are starting the winter hiding out in chunky socks and being squished up into shoes.
Why you should take care of your feet:
Bringing your feet out of hibernation and starting to open them up can have a big effect on your yoga practice - after all in our standing poses they are literally our foundations, and what happens in the feet can have a knock on effect somewhere else. A collapsed arch in the foot can lead to a pain in the neck and when we tone the feet we have more tone in our pelvic floor.
Finding our feet and taking time to give them some love is not something limited to a yoga practice: you can do it while sitting down watching a great movie or having a soak in a warm bath.
Make your feet fabulous with these moves:
Follow along to this tutorial on moves to stretch and awaken your feet - we've included details on this short practice below!
Starting with one foot we can begin by massaging the front of the foot, the toes and the sole of the foot. This works the fascia at the sole of the foot and creates more mobility between the toes. Then we can interlace our fingers in between the toes, which might be the hardest thing you do all day, we can squeeze our fingers with our toes and then spread the fingers to open the toes.
This makes the toes abduct and adduct and creates space between the toes by releasing the fascia between the muscles of the toes. Keeping the interlace we can then circle the front of the foot and then move the toes back and forth - as my teacher Doug Keller would say it's like a "yoga handshake".
When you release your fingers from your toes notice the difference between the feet and whether one foot feels more open and unstuck. Also be aware of any changes on that side of the body and how the breath feels on that side. Take a full breath in and an audible sigh out.
Take a moment simply being a human being. Observing sensations in the body. Without judgement or labelling. Just being. Then so you don't walk around in circles for the rest of the day(!) you need to repeat with your other fabulous foot and send some thanks down to your feet for being so fabulous.
Who is triyoga?
Founded in 2000, triyoga has become London's top destination for yoga, Pilates and treatments, creating beautiful spaces where everyone can belong. They are now live streaming all their classes on MoveGB - check them out here.
triyoga honour both the history of yoga as well as its ever-changing landscape. They work with the best teachers who offer a broad range of authentic styles, so that people can find a class and teacher that suits them. Everything they offer supports their aim: to provide true wellbeing – inside and out.
Vicky Fox - triyoga teacher
Since qualifying in 2008 Vicky has studied with many world renowned teachers such as Aadil Palkhivala, Rod Stryker, Doug Keller and Julie Gudmestad. Vicky's teaching style is based around her own varied experience of yoga and through that has created a physically challenging class developing strength and suppleness while emphasising alignment and precision.
In 2013 Vicky studied for a year with Laura Kupperman on her "Yoga for Survivors" teacher training course and is now teaching yoga to cancer patients at any stage of their recovery. The classes are designed to provide a safe refuge to come and practice yoga, to build strength, increase range of motion and reduce stress. The classes should help you sleep better, feel less fatigued and enjoy a better quality of life.