Have you heard about F45 Training? It's a special kind of gym that's taking the world by storm and is now spreading around the UK. And we're darn lucky to have Bath's F45 Training gym now available on MoveGB! But what makes this training venue so special? Why are people raving about it from Australia to Dubai? And what does it do to your body?
We speak to Move member, Stefanie, and find out how she found her first time training at F45. And in a nutshell, jeez it's tough but once you go F45, you never look back.
What is F45 Training all about?
We got the low down from Gary Wardle, operations manager and qualified F45 trainer, about Bath's newest F45 gym. Gary worked for big chain gyms over 10 years and had begun noticing the industry changing and the increase in demand for boutique health clubs. He wanted to be part of this change and F45 was leading this change in the industry.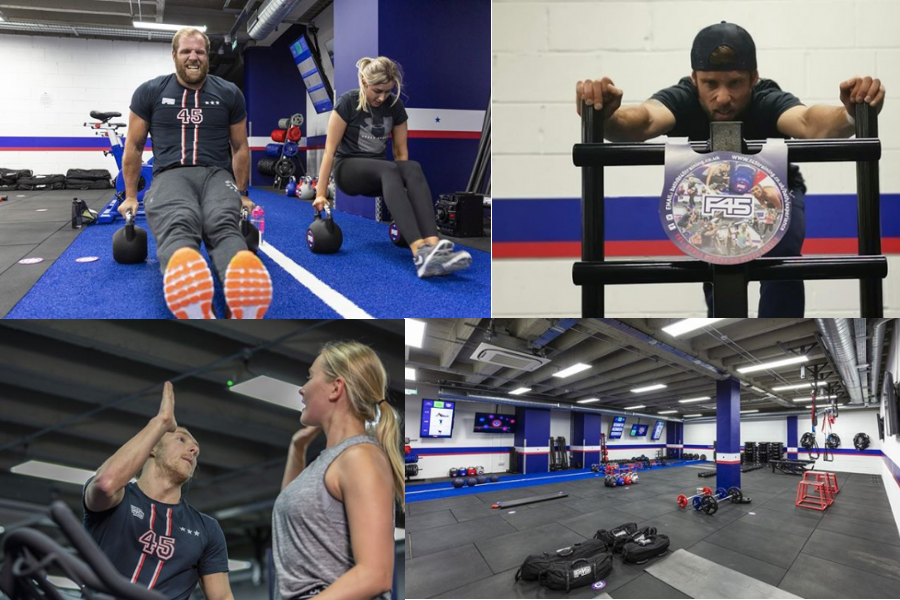 The F45 workouts are quick, convenient, effective, fun and (most importantly) they get results! They eliminate the problem of having to plan your workouts, figure out meals and mustering motivation as F45 trainers do it all for you. F45 Bath is very much a place for people who are serious about transforming their bodies to be stronger, faster and more powerful. It translates into your everyday life and you'll see fast improvements in your other fitness activities.
F45 Bath is unique as you'll never do the same workout twice - they have over 4,000 exercises which change everyday so you'll never get bored. They offer a mixture of cardio-based workouts and strength-based workouts, and are always evolving to give members the most effective workouts. Once members have got their breath back from doing the toughest session of their life, they often say THEY LOVE IT and give a big high five!
Don't believe us? Rather than listen to us bang on about how great it is, check-out Stefanie's own experience below and decide if it's for you.
F45 Training kicked my ass… and I loved it!
I've loved being a Move member over the last 4 years, and have my favourite go-to classes around Bath. Towards the end of last year I discovered some great yoga studios - yoga soon became my workout of choice (perhaps for the Savasana and lavender eye pillow at the end, not gonna lie!). However come January when I was feeling sluggish after a little too much Christmas joy, I decided I needed to incorporate cardio back into my routine.
I tried the gym a few times, but didn't feel motivated to push myself and I wasn't getting that spark of energy you have after a sweaty and tough workout. I kept picking lovely, relaxing yoga classes, but felt like I was losing the level of fitness I once had. Cue F45!
Review Of F45 Training
I'd heard of them before in London, and they had just opened in Bath and they provide a taster on MoveGB. The classes looked tough, but I thought I'd give it a go and see if it would give the cardio kick I needed!
I booked on, and although I was looking forward to it, I was also a little nervous. I've been to plenty of classes over the years, but the first time at a new place is always a little daunting for me, especially when by myself. However I was worrying for nothing!
The trainers are super friendly and welcoming, know you by name, and their main aim is to help you get the most out of your workout by pushing you to work harder than you ever thought you could! The session I chose to go to was a 45-minute HIIT circuit with lots of different stations. At the beginning, two trainers explained each exercise, along with the correct form and posture, which was really helpful as a lot of the exercises were completely new to me. Then we were off!
The pumping music and everyone working as hard as they could really spurred me on. The environment gave me the motivation I needed to push myself through the hardest exercises (albeit with a few swear words - burpees and sprints are my nemesis!). My favourite exercises incorporated battle and TRX ropes, the prowler, sandbags and kettlebells... and I even enjoyed squat jumps?!
In other classes I've found myself clock watching, willing the workout to be over, but there's no time for that at F45! 45-minutes flew by and before I knew it I was a sweaty, gasping mess in a heap on the floor and group high-fives were coming my way! One session was all it took - I was absolutely hooked and couldn't wait to go again!
Each day they have a specific workout, with new challenging exercises so you don't get bored and keep upping your fitness game. I love that they run so many different class times too as I prefer working out either early in the morning before work or during my lunch break.
I'm now training for a half marathon, so doing a mix of running, yoga classes and a few F45 sessions each month is a great mix of activities that will help train my body - find out more about how a mix of fitness activities can help you train for a marathon!
Would I go back?
I look forward to each session and every time I go I get a warm welcome and feel part of the F45 family! My favourite sessions are the resistance-based workouts on a Tuesday and Thursday (anything to avoid burpees!) and the hour long Saturday workouts that push you to the limit!
If you're stuck in a bit of a rut, want some exercise inspiration or just fancy pushing yourself that little bit harder, I honestly can't recommend F45 Training in Bath enough. Amazing trainers, awesome atmosphere and a bloody good workout - what more could you want!?
Feeling inspired to give F45 Training a go in Bath? Hit the link below to check them out on MoveGB.
And why not get involved in their 8-week challenge! A few times a year, F45 run the F45 Challenge, which consists of attending as many F45 classes you can fit into a week, alongside a helpful diet plan. Find out more about the Challenge and read about how F45 Training transformed one participants body when she was stuck in a fitness rut and had no idea how to get her health back on track.