Does being told to exercise for 30 minutes every day before munching diligently on your five-a-day make you want to run a mile? Us too – literally.
We KNOW we're supposed to make time to get healthier, fitter, and more balance in our day-to-day lives. But how can we make this stick, especially when there's something good on Netflix (again)? Or you've spotted a great little spot on a sunny patio, perfect for having that oh so refreshing summer beverage? Mmmmm...
We speak to MoveGB super member Suzanne van Maurik about how getting fitter has meant having oodles of fun and a pleasant surprise: tighter abs to boot.
How to accidentally get abs:
So how did you get into fitness?
I've always done something active in my life, but I wasn't very consistent. I'm Dutch and we don't bat an eye at cycling for hours a day, just to get to school. Often with a super-strong headwind too, as the landscape in the Netherland is sooo flat! I also used to dance a bit, ride horses, and I did a lot of running in school.
Once I finished university, I fell into 'adulting' – BIG time! I ended up on a career path that meant spending all my time in an office, hunched over a computer and glued to my phone.
For the last two years I've worked in marketing and communications, which means regular office hours don't really apply. You find yourself having more screen time just when you think it's all done for the day. Staying active just got put on the back burner.
Finally, I got to a point where I realised that work will never get 'done'. There will always more emails rolling into your inbox.
How did you discover MoveGB?
I was struggling to make everything fit into my day. I also really felt like I needed to get a bit of proper technique under my belt. You know, just so I didn't do my back in whilst doing downward dog.
I heard about how flexible the MoveGB membership is and it got me interested immediately. Loads of fab fitness classes for all abilities are just a scroll and a swipe away. Many of them are right on my doorstep too, which means I don't have to spend lots of time travelling to and from my activities. I've never been one for a gym membership that meant I just lug some weights around. That's boring!!
I really like being part of the MoveGB community too. I get lots of inspiration from fellow MoveGB-ers in class and on social media. So many people have asked me about the things I've been trying, which I love.
What's your favourite workout?
All of them!! It's been a real game changer for me to be able to do lots of different things, and to tailor my activities to what I felt like doing – rather than the same old thing I felt obligated to do because I'd shelled out my hard-earned cash on a membership.
Check-out my typical week below - it sure is jam-packed but as soon as you get your favourite activities into a routine, you barely think twice about getting into your workout gear.
My typical workout week with MoveGB in Bristol
Monday
Monday Vibes, am I right? But I'm not going to let the lack of weekend freedom get me down. Instead, I head to Pure Yoga's perfectly-formed studio for a lovely Vinyasa flow yoga session. I get to really sweat it out later that day thanks to the Sweat Box Gym STRONG class, combining dynamic weighted movements with plenty of HIIT.
Or I catch the fabulous Femme Fierce class – which totally lives up to its name and makes me feel super powerful. Just what I need to kick-start my week. I choose whichever I'm feeling on the day.
Tuesday
On Tuesdays I hit the barre – the ballet barre that is! AE Dance + Fitness perfect combo of sugar and spice puts us through our paces during an amazing Ballet Barre Fitness sesh.
I always feel like such a badass flinging my leg up high! I round off the day with a quick session at Workout Gym Bristol, combining some weights work with some cardio. This central gym is super-easy to get to, which makes all the difference for me.
Wednesday
By this time I'm really hitting my stride! I head back to Pure Yoga for a Power Yoga session. It's super challenging (though you can always take it down a notch with a modification) and I always walk out of there feeling calm and realigned.
Sometimes I go for something more upbeat - I love finding my inner fighter with Sweat Box Gym's Female Fight Club class. I punch those pads with gusto and feel like a total Amazonian Warrior!
Thursday
I head back to AE Dance + Fitness Ballet class – it's helped me so much to build strength in areas I never even knew I had muscles! Who knew stronger feet and glutes mean I'm getting so much more out of my running sessions too?
Before I discovered Ballet Barre, I could usually be found tangoing the Thursday evening away with Argentine Tango class. It's such an expressive dance and you don't need to bring a partner.
Friday
More yoga for me to start of the day - back to Pure Yoga for Ulle's morning Yoga class makes me flow with an animalistic grace. The evening means I grab my running shoes again and head outside, welcoming the weekend with a clear mind.
Saturday
I start my weekend right with a Combat HIIT class with Tracy Johnson. She showed me that being girly doesn't mean having to be dainty.
Her class really packs a punch, her playlist is absolutely ace and she's got plenty of amazing tips tailored to help you excel. I usually feel so energised I'll hit the gym again for a quick hour-long session that same day.
Sunday
This tends to be my rest day. If I want to feel like I've at least done something, I'll head to Wild Wolf's Yoga for a Sunday morning Ashtanga Yoga class. There's never any rush and I often stick around for a nice cup of tea in the gorgeous studio. Just the ticket for a Sunday morning.
How I accidentally got abs:
Staying in motion has meant I got to keep lots of variety in my daily routine and break free from the ordinary day-to-day. I'm less stiff, feel more awake (even without large doses of caffeine) and really feel like I've achieved something, every day.
Now I invest in myself, as a whole – not just my career. I just feel so much more enabled and stronger – which is filtering down into all areas of my life.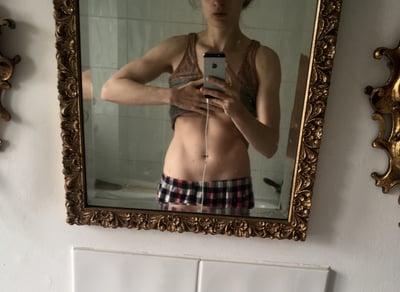 To keep me motivated, I decided to share my fitness journey on social media. I needed to get over my practically phobic dislike of having my photo taken, but when I reach milestones I can't help but share as I'm so proud of my body's capabilities!
And when I discovered I had defined abs for the first time, I was in shock as it wasn't a goal of mine - but it warranted a cheeky selfie…
Other motivators for me are when my fitness activities have led to… TV appearances! I recently got cast as a background performer and dancer in a TV period drama series, due to be released very soon. Doing cardio in a corset takes it to a whole new level, especially in front of the camera!
Ultimately, this isn't about how to get abs. It's about finding what you love as that is key to staying active. Don't limit yourself. You can do so much more than you think you can, and feeling like you're making progress (even if it's 'just' achieving better form) is such a thrill.
Keep exploring. Keep trying activities. Don't give-up if you encounter a class which doesn't float your boat - there's something out there for everyone. Just don't pursue the abs - chase that feeling of being alive, strong and capable. Work out doing things you love and you may get surprised by some ripped abs… a by-product of staying active.
The possibilities – and your potential – are limitless.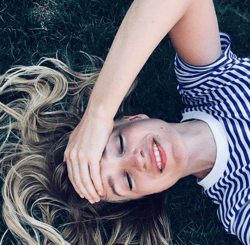 Suzanne is an aspiring dancer/actress (in that order), and former journalist, based in Bristol.
She loves to move - and will try her hand at just about anything. You can usually find her at the ballet barre, trail running, boxing, doing a spot of MMA, yoga or dancing tango.
Find her on Instagram @sannecarolienvm to keep track of what she gets up to, fitness-wise.